Haydn the Innovator – 200th Anniversary Celebrations in Manchester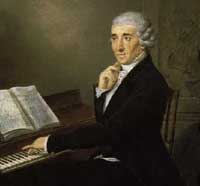 The Royal Northern College of Music (RNCM), BBC Philharmonic and Manchester Camerata have joined forces to mark the 200th anniversary of the death of Joseph Haydn with a series of concerts and events. To promote the events a dedicated website has been created:
http://www.haydntheinnovator.co.uk
The RNCM Keyboard Festival (8 – 10 May) will feature all of Haydn's keyboard sonatas. Graham Scott, Head of School of Keyboard Studies, and Artistic Director of the Keyboard Festival, commented, "Composed over the course of three decades the sonatas undergo an extraordinary passage of development from quite simple drawing room pieces to works of extreme harmonic, dramatic and intellectual inventiveness.
To complement these sonatas some chamber works will also be performed during the festival, most notably two of his piano concertos in their arrangements for piano and string quartet. Celebrated Argentinian
pianist Nelson Goerner
concludes the festival with a recital that includes Haydn's exquisite F minor Variations."
Murray McLachlan, RNCM Tutor & Head of Keyboards at Chetham's, discusses the importance of Haydn and his music:
http://www.rncm.ac.uk/content/view/529/163/