Imagine Owning a Part of Music History
Want to own a white grand piano just like the one John Lennon had and played in the famous video for his song Imagine? Or maybe you rather want to own Lennon's estate in Weybridge which is now up for sale?
To commemorate the 70th birthday of legendary musician and songwriter John Lennon, Steinway & Sons introduced the Imagine Series Limited Edition piano in 2010. The Imagine Series Limited Edition is modeled after the white Steinway grand piano that John Lennon presented to Yoko Ono on her birthday in 1971, which is still at their famous Manhattan residence where Ono lives.

The music desk of each piano incorporates one of four different John Lennon original drawings. "Come Together", the title of the opening track on the Beatles' historic album, "Abbey Road," reflects John Lennon's desire to bring people together. "Grand Piano" is a drawing that captures the songwriting process – as musician and piano become one. "Freda People" exemplifies John Lennon's passion for using music for the benefit of mankind.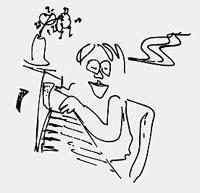 "Self Portrait" is perhaps John Lennon's most famous drawing – as just a few marks on the page and it's unmistakably John.
The Imagine Series is available in the following Steinway & Sons grand piano sizes: Model M (170 cm), Model O (180 cm), Model A (188 cm), Model B (211 cm), Model D (274 cm)
To enable the music in it's original setting, there is now a rare opportunity to purchase John Lennon´s luxuriously finished former family home 1964-68, set in about 1.5 acres of exquisite gardens within the renowned St George's Hill Estate in Weybridge, Surrey, UK. However, note that this is not the famous estate of Tittenhurst where the Imagine video was recorded and where Lennon and Ono lived 1969-71, before moving to the United States.
Sheet music from musicnotes.com:
Imagine by John Lennon, solo piano arrangement