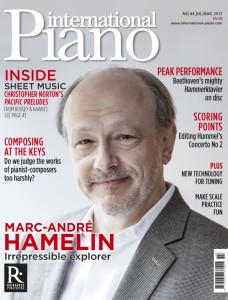 A new issue of the magazine International Piano is out!
Canadian virtuoso Marc-André Hamelin shares his passion for rare repertoire and explains why it's important to understand the mechanics of music; celebrating the achievements of pianist-composers; Andrew Brownell introduces his new edition of Hummel's Concerto in A minor; and Beethoven's mighty Hammerklavier on disc.
Plus, how to practice scales and make it enjoyable; the new technology changing the art of piano tuning; London Piano Festival marks the centenary of Russia's 1917 revolution; why audiences are unwilling to explore unusual repertoire; and free sheet music from Christopher Norton's Pacific Preludes.

Piano Street Gold members have instant online access to the digital version of the magazine.
/nilsjohan