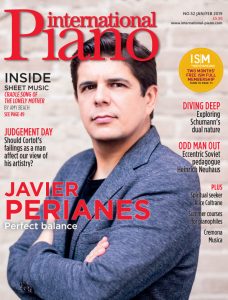 A new issue of the magazine International Piano is out!
Andalusian pianist Javier Perianes strikes the perfect balance between sweetness and objectivity as he prepares to tour Beethoven's concertos; Alfred Cortot's shocking wartime record as a ruthless cultural arbiter for the Nazi regime; Burkard Schliessmann explores Schumann's dual nature; and the unique legacy of eccentric Soviet pedagogue Heinrich Neuhaus.
Plus, Israeli pianist and painter Roman Rabinovich introduces his new album of Haydn sonatas; Poland's new competition for Chopin on historic instruments; achieving tonal variety through judicious pedalling; Italy's leading international exhibition for musical instruments; Leeds winner Eric Lu; practical courses for pianophiles; spiritual seeker and jazz pioneer Alice Coltrane; Jerome Rose recalls his influences as a 'grand-pupil' of Artur Schnabel and protégé of Rudolf Serkin; guitar masterpieces for the piano; and sheet music to Amy Beach's 'Cradle Song of the Lonely Mother'.

Piano Street Gold members have instant online access to the digital version of the magazine.
For print subscription, visit rhinegold.co.uk
/nilsjohan