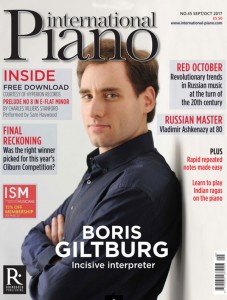 A new issue of the magazine International Piano is out!
Boris Giltburg explores how his Russian roots have deeply influenced his cultural and artistic outlook, and explains why the music of Rachmaninov never fails to move him; we catch up with pianist and conductor Vladimir Ashkenazy as he celebrates his 80th birthday; and the development of piano music and pianism in Russia in the turbulent years leading up to the October Revolution of 1917.
Also, Sam Haywood on quintessential English piano repertoire; the top university and conservatoire courses for pianists in the UK and US; how to improve rapid repeated note technique; reports from the 15th Van Cliburn International Piano Competition; and free sheet music of Franz Behr's Turtle Dove Polka.

Piano Street Gold members have instant online access to the digital version of the magazine.
/nilsjohan