Jonathan Biss' Full Beethoven Sonatas Experience
The American pianist Jonathan Biss is known to audiences throughout the world for his artistry, musical intelligence and deeply felt interpretations.
He is a firm believer in the possibilities of technology and invites people to take part of his 32 Beethoven Sonatas course at Curtis Institute. In the course, which started a week ago (September 3), Biss gives video lectures, and students engage in interactive homework assignments and peer review workshops.
Through Coursera.org, Biss has the opportunity to connect with students and lovers of music on a scale never imagined was possible. Biss says: "As much as I cherish the one-on-one interaction I have with the students within Curtis's walls, I find this opportunity to share that experience with people the world over incredibly exciting."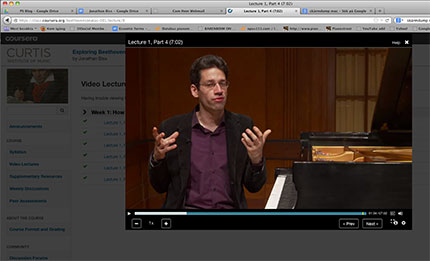 To sign up for the course, please visit:
https://www.coursera.org/course/beethovensonatas
Classes offered by Coursera are presented free of charge and are designed to help the student master the material. A key factor in the design of the Coursera system is the extensive use of interactive exercises. Within videos, there are multiple opportunities for interactions: the video frequently stops, and students are asked to answer a simple question to test whether they are tracking the material. There will also be stand-alone homework that is not part of video lectures. Students can watch Biss's lectures at their leisure, but the classes are structured with regular deadlines and each student will receive a statement of accomplishment at the end of the series.
The Sonata Recording Project
Artistically Biss is especially close to this subject of Beethoven's sonatas, and he recently released Volume 2 on Onyx label of a decade-long project to record all of the pieces. The endeavor began when Biss turned 30, and will end when he turns 40.
On this second volume in his complete cycle of all 32 of Beethoven's sonatas, Jonathan Biss has chosen the early 'Grand Sonata' op.7 from 1796 to open the recital. This sonata is exceeded in length and grandeur only by the 'Hammerklavier' sonata. He follows this with another early sonata, the famous 'Moonlight' Sonata, and the fascinating Fantasy op.77, concluding with one of the composer's own favourites, the delightful op.78, which may have been intended as a companion work to the Fantasy.
Beethoven's Shadow (Kindle Single)
What is less known until now is that Jonathan Biss writes about music in a most compelling and engaging way. For anyone who has ever enjoyed a Beethoven concert or a Beethoven recording or one of the many films about Beethoven, this Kindle Single is an inspiring reading experience. For those of you who have heard Beethoven in concert or listened to a Beethoven recording, Jonathan Biss takes you behind the scenes of those performances. If your musical interests are much broader than Beethoven or if your interests focus on the creative process this Kindle Single is well worth a try.
---
Further reading:
Biss talks about his Beethoven project
Read more about Biss' 32 000 students piano class