Leaking Pianos in Spain, Denmark and Sweden…
"Leaking Piano" – instrumental artworks by Nina Saunders
In Täby Centrum, close to Stockholm, you can find a magnificent grand piano that floats out on the floor. The grand is called "Leaking Piano" and is one of three created for shopping malls (Madrid, Copenhagen and Täby) by the Danish artist Nina Saunders, who is known for taking ordinary objects and making them uncommon.
Saunders is inspired by the environment she is in and adjusts the object to different locations to stimulate thoughts, humor and playfulness of the beholder. She came up with the idea for these artworks by looking at the landscape in a shopping mall and how people relate to it.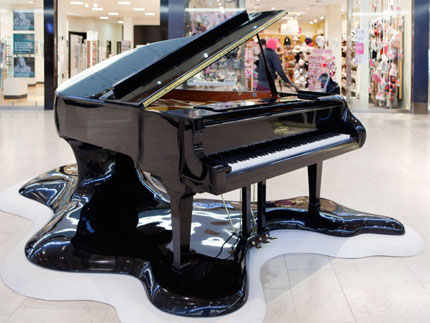 Nina Saunders says:
"A grand piano is a beautiful sculptural object with a sound that people can recognize and be drawn to. By making it a surreal work of art, I feel it suggests playfulness and humor, it is thought-provoking and at the same time familiar. For me, it is refreshing and fun to get away from the gallery and museum, and to have my work available to as many people as possible who may not have been in the gallery world before. It is a privilege. After all, it's the audience that will bring meaning to the work, and with a smile, I hope."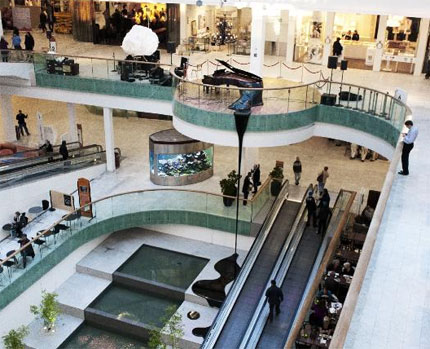 The artwork is not only beautiful to look at, the malls invite professional pianists and artist performances to take place. If not, the pianos themselves also work as self-playing iPod pianolas.
The artist's webpage:
www.ninasaunders.eu