Live Streamed Piano Recitals at The Academy of Arts in Stockholm
A new piano recital series has been launched in Stockholm this fall. The first recital, with pianist Peter Jablonski took place on September 15 and today, October 20 at 17.00 GMT it's time for pianist Murray McLachlan to enter the stage.
The series is run by the organisation Piano Visions. One of the sponsors and collaborators is Piano Street, which will support the series in many interesting and exciting ways, for example by arranging an online piano composition competition from which the winning pieces will be performed in the series.
Piano Street is, in collaboration with Art of Sound in Stockholm, developing and supplying the artistic and technical platform for live streaming the recitals on the Internet. The first four recitals we be test streamed in order to work out the concept and to receive feedback.
We welcome you to watch the test broadcast of today's recital with British pianist Murray McLachlan.
Visit this link to view the broadcast or watch in the embedded player below:
EDIT October 21: The recital is over. Selected clips will be available soon)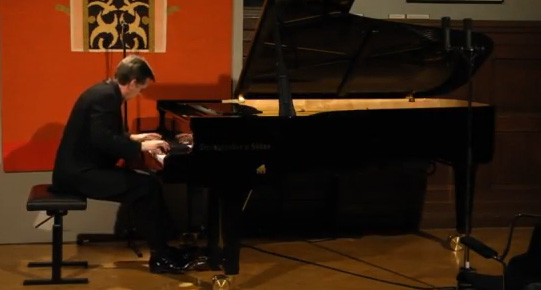 Program:
Bach: Prelude and Fugue i C-sharp minor, book 1
Beethoven: Sonata in E major, op 109
Chopin: Berceuse
Chopin: Scherzo no 3
Intermission
John McLeod: Sonata no 5
Stenhammar: Impromptu in G-flat major
Liszt: Sonata in B-minor
Read more about the recital series:
http://www.pianovisions.se/in-english/
Please post your comments and feedback below!
---
While waiting for the recital to begin, watch a clip from the previous recital. Peter Jablonski performs Schubert's Moment Musical no 2: