Marathon Men – Two Complete Beethoven Sonatas Projects to Achieve Completion during 2009
Daniel Barenboim is not the only one to have successfully had the complete Beethoven sonatas on his agenda lately.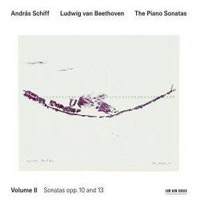 A Grammy nominee for "Best Classical Album (Without Orchestra)" for the second volume of his Complete Beethoven Sontata recordings for ECM, András Schiff began in 2004, a series of performances in Europe in which he explored the 32 Beethoven piano sonatas in chronological order – a project recorded live for ECM New Series, to be released in eight volumes in 2009. Garrick Ohlsson performed the whole cycle at eight concerts at the Verbier Festival in Switzerland in 2005 and at Tanglewood in 2006. He will release the last volume in his Beethoven series during 2009 on the Bridge label. Notably, volume three was awarded a Grammy for "Best Classical Instrumental Soloist (Without Orchestra )" in 2008.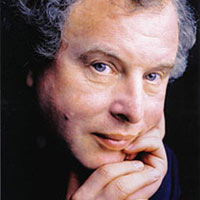 András Schiff was born in Budapest, Hungary, in 1953. He began piano lessons at the age of five with Elisabeth Vadász and continued his musical studies at the Ferenc Liszt Academy with Professor Pál Kadosa, György Kurtág and Ferenc Rados; he also studied with George Malcolm in London. Recitals and special projects take him to all of the international music capitals and include cycles of the major keyboard works of Bach, Haydn, Mozart, Beethoven, Schubert, Schumann, Chopin and Bartók. Schiff has established a prolific discography, including recordings for Teldec (1994-1997), London/Decca (1981-1994) and, since 1997, ECM New Series. Recordings for ECM include the complete solo piano music of Beethoven and Janácek, a solo disc of Schumann piano pieces and his second recording of the Bach Goldberg Variations. He has received several international recording awards, including two Grammy Awards for "Best Classical Instrumental Soloist (Without Orchestra)" for the Bach English Suites, and "Best Vocal Recording" for Schubert's Schwanengesang with tenor Peter Schreier.
Recital reviews – Schiff
The Independent: Beethoven Sonatas / Schiff, Wigmore Hall, London
The New York Times: Beethoven Sonatas, With Fire and Finesse
Schiff´s London lectures on Beethoven's piano sonatas in May 2006 were exceptionally well received and sold out.
You can listen to them all here:
Introduction by Guardian
Schiff's lectures on the 32 Sonatas by Beethoven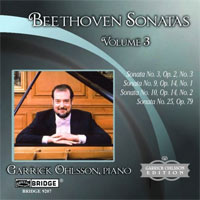 Since his triumph at the 1970 Chopin International Piano Competition, American pianist Garrick Ohlsson has become established worldwide as a musician of extraordinary interpretive power and prodigious technical facility.
Although he has long been regarded as one of the world´s leading exponents of the music of Chopin, Mr. Ohlsson has an enormous repertoire that encompasses virtually the entire piano literature. A student of the late Claudio Arrau, Mr. Ohlsson is noted for his masterly performances of the works of Mozart, Beethoven and Schubert, as well as the Romantic repertoire. Mr. Ohlsson's concerto repertoire alone is unusually wide and eclectic, ranging from Haydn and Mozart to 20th-century masters, and to date he has at his command some 80 works for piano and orchestra.
Recital reviews – Ohlsson:
The New York Times: One Pianist, Two Sounds and a Single Composer
The Boston Globe: Marathon man
The New York Times asked Garrick Ohlsson to share his insights into Beethoven's sonatas. In this series of features recorded in the WQXR studios, Mr. Ohlsson takes listeners on a journey through each of the sonatas, playing excerpts and talking about the music and the composer:
Garrick Ohlsson on Beethoven's Sonatas