New Book: "Sviatoslav Richter – Pianist" will be released on April 13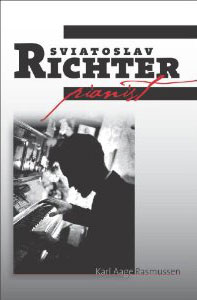 Sviatoslav Richter (1915-1997) is widely recognized as one of the greatest pianists of the twentieth century. In this translation of the first full-scale biography of Richter, Danish composer Karl Aage Rasmussen combines his artistic appreciation of Richter's career with a sympathetic telling of the pianist's life based on family archives and interviews with people who worked and lived with him.
Richter enjoyed early success in the Soviet Union, winning the Stalin Prize in 1949. He traveled and performed throughout Russia and Eastern Europe, and earned notice in the West via his recordings. In 1960 he toured in the West to great acclaim, including a run of successful performances at Carnegie Hall. He would remain an active performer throughout his life.
Richter was an intensely private and withdrawn individual who disliked the glare and trappings of celebrity, even preferring to play small halls where the audience could concentrate on the details of his performance. The book also details his chronic depression and homosexuality, and the impact that this may have had in curbing his political activities. Rasmussen celebrates one of the giants of twentieth-century music while painting a realistic portrait of the often troubled double life that many Soviet citizens, especially public artists, were forced to lead.
The book is so well-written, exciting, and captivating, it can almost be read as a novel; it is also thoroughly well-documented and characterized by the author's enormous professional knowledge. It is impressive that a Danish writer with no particular knowledge of the Russian language has been able to include so many essential details; one would be hard-pressed to imagine anything lacking on this account.
Publisher: Northeastern (April 13, 2010)
Pre-order the book at Amazon.com