New Piano Design for the Future
If Han Solo were going to sit in on keyboards with Figrin D'an and the Modal Nodes in the Mos Eisley cantina, he might just prefer his 88 keys to be designed by this galaxy's newest, and most forward-thinking, piano constructor, Gergely Bogányi.
The Hungarian's creation is constructed completely of carbon fiber and sits upon two sinuous legs designed to catch, amplify and redirect the sound out into the hall. A million pounds and 8,000 man-hours later, and Bogányi has stepped into the footsteps of Liszt.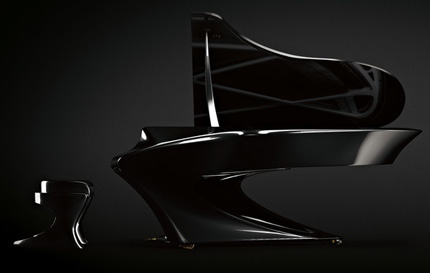 The 19th-century virtuoso famously left a trail of broken piano parts behind him as he pushed the limits of what was pianistically possible. His technique and expressiveness were more powerful than anyone else's that had come before, and this explosiveness led to the improvements of iron frames, tougher sounding boards and ruggeder construction of both the body and key works.
Designed for smoothness and power
Since the days of Liszt, the piano has undergone many changes. Even before Bogányi's futuristic piece of musical art hit the stage, modern pianos were comprised of thousands of parts requiring exquisite craftsmanship. During his painstaking work, Bogányi redesigned each of his creation's 18,000 parts. His goal was to combine the smoothness of older instruments with the unbridled power of modern ones. By using only carbon fiber, he also sought to reduce the effects of temperature, dust, humidity and other environmental factors on both intonation and tone production.
Bogányi adds a performer's perspective to the realm of piano design and construction; the improvements he created were intended not only to improve the sound of the piano but also the pianist's experience. The CEO of the prominent New York piano store, Klavierhaus, said he was mesmerized by the sound Bogányi was able to produce with his piano. A Dezeen Magazine commenter remarked that he wanted, metaphorically, to take the Bogányi piano for a ride on Germany's fabled Autobahn.
Not better – but different!
Music historian János Mácsai points out, however, that Bogányi must not think his new piano is intrinsically better than previous instruments. Mácsai maintains that the Hungarian pianist wanted, instead, to explore new sonorities and do things differently.
Read more on Bogányi's website.