A piano score of the recently rediscovered piano piece by Johannes Brahms, Albumblatt in A minor, has been published in an Urtext edition by Piano Street today.
Free sheet music to download and print:


Brahms – Albumblatt in A minor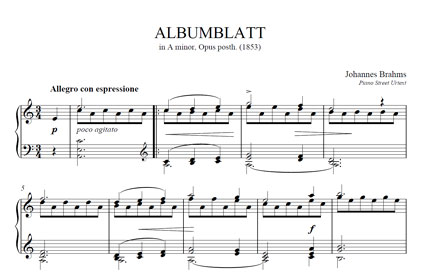 (File updated May 27, now inlcuding fingering and work comments.)
Listen:

András Schiff plays "Albumblatt" in A minor by Johannes Brahms

The theme reused in the Scherzo of Brahms' Horn Trio
The $158,500 album
The piece was discovered by the auction house Doyle of New York City, where the "Album Amicorum of Arnold Wehner" was sold for $158,500 in April last year.
The album belonged to Wehner who was director of music at Göttingen in the 1850s and contains musical contributions and quotations from important contemporary composers and musicians including Brahms, Schumann, Mendelssohn and Liszt.
Musicologists believe that Brahms wrote this piano piece in Arnold Wehner's album in June of 1853, when he and his friend Edouard Remenyi were visiting Göttingen.
Recycled theme
The theme was also used by Brahms in the Scherzo's trio section in his trio for piano, violin and French horn, composed 12 years later. The new finding is however not a brief sketch but a finished manuscript of a complete piano piece, clearly written and including performance markings.
Who was first?
The album was catalogued and described in Doyle New York's sale catalogue of April 20th 2011 with the assistance of Dr. Michael Struck of the Johannes Brahms Gesamtausgabe, Kiel. However, earlier this month BBC claimed that conductor and musicologist Christopher Hogwood discovered the piece and that the world premiere was to be performed by András Schiff in a broadcast on January 21. Although Hogwood's discovery appeared to be slightly misleading and the piece had already been publicly performed, the short video by BBC including an interesting discussion and samples of Schiff's masterful performance is well worth watching:
BBC Radio 3: András Schiff plays a lost work by Johannes Brahms
The new edition
A scanned copy of the manuscript has been online on Doyle New York as part of their April 2011 catalog, a transcription of it appeared on IMSLP this week and the piece will be included in Bärenreiter's new edition of Brahms' Horn Trio to be released in February.
Piano Street's new urtext score may very well be the first officially published edition of this wonderful little piece. Regardless, we are happy to share it with the piano playing world for free to play and enjoy!
Please share it with your friends by posting the following link:
http://www.pianostreet.com/albumblatt
…and post your comments about the piece below!
/nilsjohan