New Piano Piece by Mozart Discovered: Allegro in D K626
Today is W.A. Mozart's 265th birthday and Salzburg and Austria celebrate this with the world premiere of one of his compositions.
At Piano Street we celebrate by releasing the score of the composition, the recently discovered piano piece "Allegro in D K626b/16".
Download it for free below and celebrate Mozart yourself by playing the piece today!

A hidden treasure
So, how could this manuscript have hidden from public attention? Evidently, after passing from the estate of Mozart's youngest son into the collection owned by Austrian civil servant and amateur musician Aloys Fuchs, it was mistakenly given away and vanished off the musical map. Owned by an antiquarian book and art dealer in Vienna in the 1880s, the manuscript was brought to auction in 1899. By this time The Köchel catalogue – listing the composer's works – started mentioning it even though the manuscript itself kept going in and out of auction houses.
In 2018, the 'unknown' Allegro was offered for sale to the Salzburg Mozarteum Foundation on behalf of the family of its owner, a French-Dutch engineer who had bought the manuscript from a dealer in Paris in the late 1920s. The Foundation's staff and experts from the USA and Germany confirmed that the unattributed piano piece was undeniably by Mozart.
The Allegro in D major, K. 626b/16 fills the front and back of a single sheet of music paper in oblong format. The handwriting is hasty, but error-free. The undated composition stems in all likelihood from the first months 1773, according to the Mozarteum Foundation; it thus originated either during Mozart's third journey to Italy or immediately after his return to Salzburg. Peculiarities of style suggest that this three-part dance movement is not an original piano piece, but a keyboard arrangement in Mozart's own hand of an unknown orchestral work.
Free download!

Download the PDF-score and play the piece today to celebrate Mozart's 265th birthday!
The World Premiere in Salzburg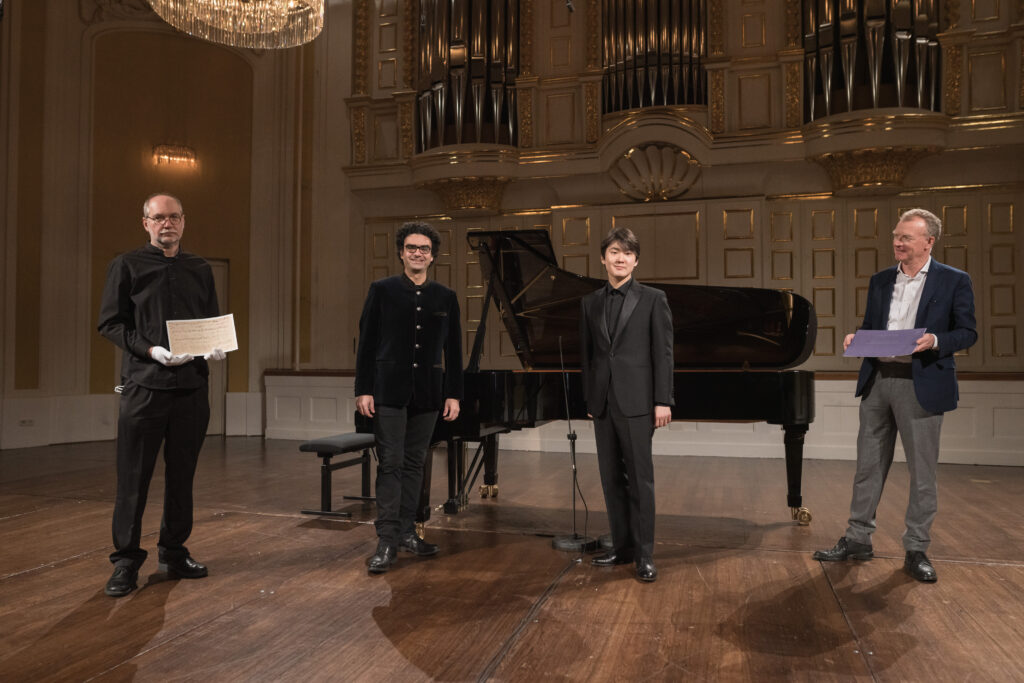 A facsimile edition of the Allegro in D, complete with extensive introduction and bibliography, has been published by Mozarteum Foundation Salzburg and pianist Seong-Jin Cho will perform the piece in the official world premiere in Saltzburg on 27 January.
Pianist Seong-Jin Cho is the unique performer in the Great Hall of the Salzburg Mozarteum Foundation which is also the opening day of the Foundation's first virtual Mozartwoche festival. Cho plays a stimulating selection of works by the Great Master, including the Piano Sonata No. 12, the Allegro in C Major and 94 seconds of an Allegro in D-major, performed for the very first time.
"The Allegro in D major K. 626b/16 is a highly attractive and charming piano piece, that adds yet another facet to the affectionate relationship of Mozart to his sister. How wonderful, that we are now able to participate in this relationship after such a long period of time."
— Dr. Ulrich Leisinger, director of research of the Mozarteum Foundation,
"The rediscovery of this new work by Mozart is a real gift, not just for the Foundation but for friends of the Mozartwoche all over the world! We are very pleased to be able to fulfil the mission of the Foundation in such wonderful style, together with Seong-Jin Cho and Deutsche Grammophon, our aim being to enable people of all ages to find out more about Mozart's music, life and personality."
— Dr Johannes Honsig-Erlenburg, President of the Salzburg Mozarteum Foundation
"It is a great honour to be invited to give the premiere of a formerly unknown work by Mozart, in the city where he was born and where it may have been written,"
— Seong-Jin Cho, pianist
---
Resources:
Read more at the press page:
Mozarteum.at
Watch a recording of the official world premiere that will by published here 27 January at 18.00 GMT:
DG YouTube channel