Pianist Gloria Cheng Entices Hollywood Greats to Explore the Piano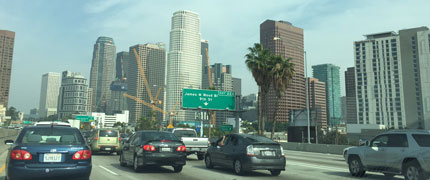 When I boarded the flight from Stockholm to Los Angeles on February 19, 2015, I knew that renowned, Grammy-winning pianist Gloria Cheng had been working on a unique project since 2010. After receiving a set of contrasting character pieces from Bruce Broughton named ¨Five Pieces¨ as a gift for her that year, Ms. Cheng invited five more of the most prominent film composers of today to write new music for solo piano. Her aim was to inspire each of the composers to branch out from his usual "Hollywood film magic" and pen something intimate, personal and private. The project, including a film screening had its premiere at the Boston Court Theatre in Pasadena on February 20, 2015.
The project – Montage
The works in the project MONTAGE – Great Film Composers and the Piano, were originally premiered in the Piano Spheres concert series in Los Angeles. Harmonia Mundi recorded and produced the CD, which was also filmed as a documentary. The film covered not only the recording sessions and concert but also Ms. Cheng's interviews with each of the composers. The list reads like a who's who of Academy Award nominations:
Bruce Broughton, ("Silverado" and "Young Sherlock Holmes")
Don Davis, ("The Matrix" and "Beauty and the Beast")
Alexandre Desplat, ("The Queen," "The King's Speech" and "The Budapest Hotel")
Michael Giacchino, ("Up," "Lost", "Ratatouille" and ¨Jurassic World¨)
Randy Newman, ("Monsters, Inc." and "Toy Story 3")
John Williams, ("Jaws," "Star Wars," "ET" and "Harry Potter")
These supremely talented composers have a combined 72 Oscar nominations and nine wins between them, and most of them are household names. The premiere in Pasadena included the first public showing of the film. Ms. Cheng also performed selected pieces from the album. To the delight of all in attendance, four of the composers were there in person. They enjoyed the fruits of their collaboration, and the thankful, enthusiastic crowd, comprising both music and film buffs, showered them with praise.
Writing for the piano – putting your hands inside a shark's mouth?
So, what happens when one takes film composers out of their milieu? First, they immediately prove their skill and competence as composers. They also show a deep kinship with the piano, an instrument they greatly respect. Randy Newman thinks that his own technique tends to be slightly exposed with no place to hide. ¨With the piano you experience an enormous range and what is possible on it is almost limitless¨. Michael Giacchino explained that composing for the piano ¨is like putting your hands inside a shark's mouth with all these teeth and to see where can I get least hurt?¨. Don Davis sees it like jumping into a pool where there is Beethoven and sonatas, as the greatest music in history always involve piano music. ¨The challenge is to come up with something which may enthuse a pianist to down Chopin and play my music instead.¨ For Alexandre Desplat it is just recently he found the nerve to write for concerts and not for the movies.
All composers agreed on the feeling of being exposed, as there are no strings, brass and woodwinds behind which to hide.
Bruce Broughton
, himself an excellent pianist, said that a composer had better have something important to say when writing for the piano. Inspired by the "aloneness" of composing for the piano, the six Hollywood legends created a multifaceted album of differing styles and communicated their ideas in a way most unfamiliar to film audiences.
John Williams, who had originally promised Ms. Cheng a one-page piece as an encore for a Cheng Tanglewood recital, got inspired and expanded his "Conversations" into a suite. This programmatic work implies conversations between very well-known individuals in much the same way as Mussorgsky implied paintings in "Pictures at an Exhibition."
Trumpet-playing composer Don Davis wrote "Surface Tensions," which is a complex work elaborating on texture, dynamics and pitch. The piece meanders through different moods, many of which remind the listener of textures used in contemporary art music. The Newman family is renowned in Hollywood as musicians and composers. Did you know that Randy Newman's uncle Lionel taught Marilyn Monroe how to sing? His five movement "Family Album" pays homage to three of his film-composer uncles: Alfred, Lionel and Emil Newman.
As with many French composers, Desplat is enamored with blue notes and touched jazz techniques in composing his etude. Lang Lang played the premiere of the Three Etudes in 2012. "Composition 430," by Giacchino, invites the listener to ride bikes with the composer through a small, New Jersey town. Through the musical interplay, the listener can hear the young Giacchino's realization that his life was more important than it seemed.
Inspiring young people
When it comes to music education, these composers have all the necessary tools to create and develop music appreciation in today's young people. Music appreciation develops through listening, explains Giacchino. Further, he maintains that live music is crucial to such development. Newman finds it disappointing that we don't see many young people at 21st-century concerts. He's currently considering composing a modern "Young Person´s Guide to the Orchestra" in the style of Benjamin Britten. Newman wants to create something that will compete with dance music's irresistible beat and the electric guitar's undeniable allure. Davis favors using technology to reach out to young people. To him, wide exposure is essential, and he'd love to see millennials listening to Wagner on their smartphones. Broughton thinks performance is the big draw. Being involved in a band or orchestra fosters the development of sports-like teamwork and inspires the performers always to improve.
---
A conversation with Gloria Cheng
Patrick Jovell: Gloria, you have great experience with classical music of all styles, including a contemporary emphasis, and this must undoubtedly be the basis for the film composer project. Who inspires you the way Lutoslawski inspired Davis or maybe as the American Songbook did in Randy Newman's work?
Gloria Cheng: For me the joy and challenge of being a musician is in the opportunity to live inside the mind and soul of brilliant composers of all eras. Interpretation is not something I think about – my task is to probe, understand, and absorb the composer's world in order to portray it as fully and accurately as I can. Don Davis' music is obviously very different from Randy Newman's. Every great composer is a rich universe of unique landscapes, ecosystems, and ideologies. It's my job to communicate in the language of each universe.
Jovell: The composer must imbue the score with feelings and ideas as well as simple notes and complex progressions. The performer is responsible for translating those feelings and ideas of the composer into coherent sound. As Broughton said, "… You'd better have something to say" before embarking on writing for the piano. Can you tell us how and why Williams expanded "Conversations" from one page to four movements?
Cheng: Bruce Broughton and John Williams are both superb pianists, and have plenty to say at the piano! They both contributed large-scale, multi-movement suites to the MONTAGE project. John Williams wrote the first of the Conversations as an encore for my recital at the Tanglewood Festival of Contemporary Music, where he has spent innumerable summers. He had long ago spoken of his idea for a piece he would one day write for me, and this was the chance to make it happen. Knowing how busy he always is, I suggested that even "just one page" from him would be wonderful. Well, the "one page" that arrived in my mailbox was rolled up like a scroll and measured over three feet long! Three more movements followed in the ensuing months, all of which invoke several well-known jazz icons in "conversation" with one another. These are not "jazzy" pieces, however – they are spikier and more abstract, complex and deep. I'm so glad that John Williams didn't stop after "just one page" !
Excerpt from John William's Conversations: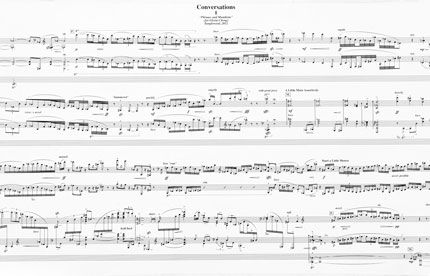 Jovell: These composers' film works are massively popular; they speak to audiences and musicians alike at a visceral level. They inspire young people, both to begin a career in music and to continue in different directions as part of an already-established career. As the interpreter of these composers' musical utterances, do you see a future for their continued contributions to the world of piano music outside the film studio?
Cheng: I certainly hope so! So many children have their first exposure to orchestral music at the movies, and most of the beloved movie themes make their way into piano collections intended for young students. MONTAGE was an effort to reveal the "private" composers behind these such public film composers, to hear what they would write when given complete artistic freedom. In the documentary film about the MONTAGE project, the composers all speak about how challenging it is to write for solo piano, and how they have all avoided it. But I certainly hope they will write some more!
---
Resources Free piano scores
Don Davis is generously offering Piano Street's readers the score of his piece "Surface Tension" for free.
Piano score samples by Bruce Broughton are also available here.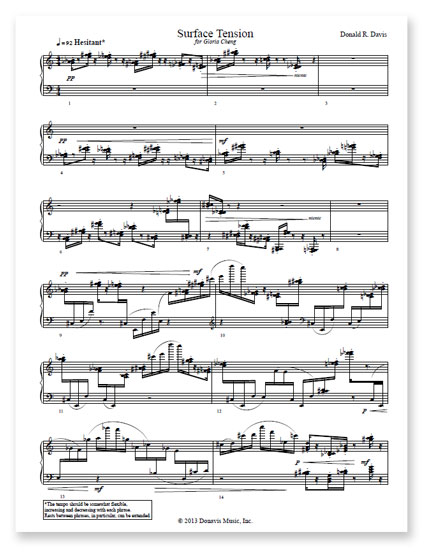 Listen to samples!
http:https://itunes.apple.com/se/album/montage-great-film-composers-and-the-piano/956534282
See the film trailer