Pianist Gloria Cheng Wins Grammy
Gloria Cheng, recent Grammy winner of the Best Instrumental Soloist Performance (Without Orchestra) for "Piano Music of Salonen, Stucky and Lutoslawski" talks to Patrick Jovell, Piano Street (proud UCLA alum.).
Patrick: Congratulations on your Grammy award! Is it possible to know what this will mean to you and your life?
Gloria: I doubt that the award will change my life, but now, three days since the Awards ceremony, I am as busy and fulfilled as I have always been. No more, no less, really. But I'd say that the award has made me happier!
Patrick: On this CD you play music of Salonen, Stucky and Lutoslawski. I know that you had the chance to work closely with the composers? How does such a collaboration work?
Gloria: I've had the honor of working with all three composers on their music. Fortuitously, I was part of Salonen's first guest engagement with the L.A. Philharmonic when he programmed the Lutoslawski Third Symphony. At the time I was playing second keyboard in the Los Angeles Philharmonic, and that was my first encounter with the music of Lutoslawski. I was enchanted by the music. On a later occasion Lutoslawski was invited to be a featured composer on one of the L.A. Phil's Green Umbrella programs, and I coached some of his chamber music with him. That experience gave me more insight and appreciation for his work, and I came to love it very much. Esa-Pekka and Steve Stucky are longtime friends and collaborators whose work I admire greatly, and I've worked them both countless times.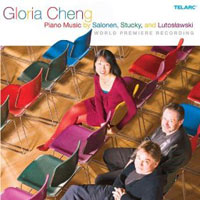 The fact that all three composers are so linked musically (the younger two both acknowledge Lutoslawski as their musical forefather), that all four of us have worked together numerous times in the past, and that we are all friends, gives this CD a lot of musical and personal cohesion for me. As for the collaborative process, it's probably the Salonen pieces that offered the greatest opportunities for interaction, since Dichotomie was written for me, and I did the first performances of the Preludes. Sometimes I'd play the piece for him and work through some passages that I envisioned alternate approaches to. Sometimes it was a phone or email dialogue about any number of things like dynamics, general expressive concepts, rubato, and the like. Actually the Preludes arrived in my email box with very little in the way of dynamics or expressive indications, and I ended up inventing some when I couldn't reach Esa-Pekka. (I hope he's happy with them!)
Steven Stucky was actually present at the recording session so he was able to offer any suggestions right there. In the end, he didn't have too much to say, but I was glad he was there. Most composers I've worked with have refrained from imposing their own thinking on me, but enjoy collaborating on the organism together.
Patrick: You were trained by master teachers such as John Perry and the late Aube Tzerko, both representing notable and influential piano traditions. What triggered your interest in contemporary piano music?
Gloria: I feel that I am the luckiest pianist alive to have had the teachers that I had. My first piano teacher, Isabelle Sant' Ambrogio, drilled the notion of tone and color, and how to produce a spectrum of them, into me at an early age. I also owe my lifelong absence of piano-related physical problems to her. Aube Tzerko taught me about structure and phrase and declamation. From John Perry I learned how to put the fire underneath a passage and make it soar. I have been so fortunate to have such a pedigree. As for getting involved in contemporary music, it appealed to me during my college years when I was awed by the breadth of knowledge that the composers had cultivated in order to ply their trade. They were the ones that knew poetry, literature, and myth; they were the ones who knew how to produce any style with their deep understanding of all the elements that comprised that style. I always learned something whenever I got into a conversation with a composer. So naturally I got drawn to playing their music, which was very strange and esoteric to my mind at the time. In the intervening years, my involvement with new music has led me to so many musical places that I could never otherwise have imagined. Each emanates from a rich personal history, philosophy, and culture, in other words, the life that was lived by that composer. I must add that I love playing music of friends. I usually can hear them in their music, and conversely I learn more about them when I put their music under my fingers.
Patrick: The complexity of contemporary compositions can often be rather discouraging for the un-experienced pianist. What advice can you give to pianists who want to explore and get exposed to contemporary piano music?

Gloria: In order to explore anything, one has to leave pre-conceived notions behind and be open to things that are completely different. The learning curve becomes steeper with much contemporary music because the languages are unfamiliar, and there is no inevitability as there is in tonal languages. Every composer's musical language nowadays is personal and unique; the best are eloquent, persuasive, surprising, and ingenious. Understanding them requires openness, respect, humility, and a lot of patience. My world has grown bigger and more interesting from every composer whose music I've played. New sound worlds have revealed themselves to me in every instance. To mix a metaphor, some of these universes become lifelong loves that grow and evolve over time, some become great friends, some we want never to visit again. But the more openness we can show in the face of a new encounter, the richer our lives become.
To be continued…
---
Pianist GLORIA CHENG is widely recognized as a colorful and communicative interpreter of contemporary music, garnering universal acclaim for her unassuming virtuosity and eloquence. On the world premiere of Salonen's Dichotomie, dedicated to Cheng, the Los Angeles Times described her performance as "miraculous in the sheer speed and sureness of her fingers, in the rich depth of color and sonority she obtained from the piano, and in the sheer expression of joy she brought to a demanding new work." Gramophone has depicted her as "technically fearless," and the New York Times has praised her "commanding technique, color and imagination."
Cheng has premiered dozens of new compositions, including works composed for her by John Adams, Mark Applebaum, Pierre Boulez, Joan Huang, David Raksin, Terry Riley, Esa-Pekka Salonen, Stephen Andrew Taylor, Chinary Ung, and Andrew Waggoner. Cheng's dedication to contemporary music has brought her into close collaborations with many of the leading composers of our time: Thomas Adès, Henry Brant, Earle Brown, Elliott Carter, George Crumb, John Harbison, György Ligeti, Witold Lutoslawski, Steve Reich, and Steven Stucky.
She has twice been featured with the Los Angeles Philharmonic New Music Group at Alice Tully Hall, and made her solo debut with the L.A. Philharmonic in December, 1998, performing Messiaen's Oiseaux exotiques and Couleurs de la cité céleste under the direction of Zubin Mehta. In May 2003, Cheng was the soloist, at the personal invitation of Pierre Boulez, in the L. A. Philharmonic's historic final concerts in the Dorothy Chandler Pavilion, again performing Messiaen's Oiseaux exotiques. Recent engagements include appearances with the Pacific Symphony, New York Philharmonic, Long Beach Symphony, Indianapolis Symphony, San Francisco Symphony, Shanghai Symphony, Pasadena Symphony, Opus Novum (Hawaii), Composers Inc., and San Francisco Contemporary Music Players. Additional projects have brought Cheng to festivals at Ojai, Tanglewood, Aspen, Bad Gleichenberg, and Kuhmo (Finland), to the Chicago Humanities, Other Minds (San Francisco), and Composer-to-Composer (Telluride) Festivals, and to venues such as Carnegie Hall, Lincoln Center, Radio France, Kennedy Center, and the Théatre du Châtelet.
Prior to post-graduate studies in Paris and Barcelona, Cheng earned her B.A. in Economics from Stanford University, and graduate degrees in Music from the University of California, Los Angeles (UCLA) and the University of Southern California. Her primary teachers were Isabelle Sant'Ambrogio, Aube Tzerko, and John Perry. She is on the faculty at UCLA.