A recent article featured in Piano Street's News Flash explains that four-hand piano duo partners share neurons dealing with spatial seizing while playing. That suggests that we give you readers a gem on the same topic.
NEW! Click the album cover to listen to the complete album: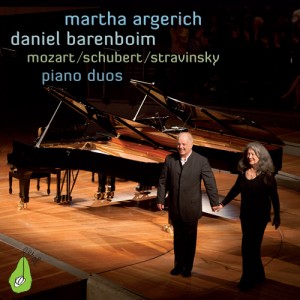 (This is a new feature available for Gold members of pianostreet.com)
Two legends coming from Buenos Aires and of European-Jewish origin, both have made important global careers for themselves. Martha Argerich and Daniel Barenboim are not only fellow countrymen; as prodigies they also both began to give concerts in their early youth, as soloists and with orchestras. In addition, they both share a particular interest in chamber music with a repertoire spanning from the classics to modernism. They now appear together as duo pianists; a summit meeting of two of the most eminent pianists of the past few decades and of the present. Watch the sample from Michael Beyer's film production for EuroArts Music in co-production with RBB, ARTE and Unitel.
Works:
Wolfgang Amadeus Mozart: Sonata for two pianos in D major KV 448
Franz Schubert: Variations on an Original Theme, for piano, 4 hands in A-flat Major, D. 813 (Op.35)
Igor Stravinsky: Le Sacre du Printemps (Version for piano, 4 hands)
The album was released on October 20 2014.
/patrick