Piano As Art – The Art of Transforming Pianos
Last month we wrote about a piano maker incorporating old visual art into new built pianos. This time the opposite applies – creating new visual art out of old pianos.
Broken strings and missing keys have made an appearance on the art scene as part of the Piano As Art Exhibition. A collaboration of two talented artists, Penny Putnam and Shauna Holiman, the exhibition features art created from bits and pieces of pianos that were too old for use or were in total disrepair. Wall art, freestanding sculptures, and many other pieces make up the collection that is on display in various locations throughout the year.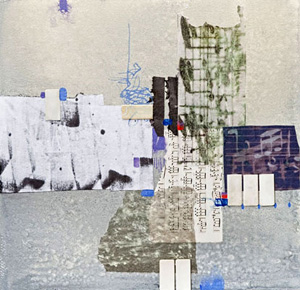 Putnam and Holiman first worked together as members of the Greenwich Art Society. After visiting the Faust Harrison factory with friend and co-owner Sara Faust, Holiman knew the pianos stored there would be the perfect collaborative project for Putnam and her. Every Monday, Putnam and Holiman would meet together and create outstanding pieces of art from the dismantled pianos. Though skeptical at first, Faust now believes there is a special energy that comes from viewing the Piano As Art Exhibition in a room full of pianos.
The works that were created over the course of three years include mixed media wall art, such as "Ebony meets Ivory." This piece includes several ivory piano keys with more traditional art supplies. A few pieces are very stirring, such as "Dragon" or "Elegy," with its 1,640 pieces of ivory. Other pieces are light and almost whimsical, such as "Boogie Woogie," which was made solely from piano parts. One piece in particular pokes a bit of fun at musicians. Photographs from the dismantling process are on display, as the dismantling became an integral part of the creation process. Several paintings that were inspired by the creation of the Piano As Art Exhibition are included as well.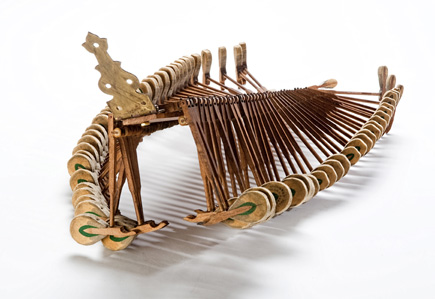 Displayed amidst working pianos, visitors to the exhibition can almost envision the many people who practiced and performed on these recycled pianos. Each piece created pays tribute to the history of music and the handcraftsmanship necessary to produce such quality instruments. Employees of Faust Harrison Pianos say viewing the exhibition is a unique experience and it has forever changed how they view pianos.
The post-modern artwork featured in the Piano As Art Exhibition shows an exciting way to recycle difficult materials in to objects that can be enjoyed by many people. Holiman stated, "It transforms the way that people see a familiar object. It represents a time in history when everyone had a piano in their home that is fast fading away."
Both artists see their work with rare materials as giving the ivories a new life. "Their first life was as elephant tusks; their second life was as pianos; and now they live again as art,"
A Collaborative Adventure with Shauna Holiman & Penny Putnam (short film)
The project is also a wonderful tribute to relationships built between artists and the small business world. The partnership between Putnam, Holiman and Faust Harrison Pianos is strong and they are already planning an encore performance.
---
Piano Street got the opportuinty to ask Shauna and Penny a few questions:
We have read that your work has created an instrumental awareness among people working with building pianos. Which is the impact on people and pianists?
People's reactions to Piano As Art have been most gratifying to us. We think art should be transformative: that it should alter the way you see things or change your mood. It should give you a lift, or make you think. It seems we achieved this. Some of the art, especially the ones made out of wippens, the mechanical part of the action that allows for fast repetition of the same note, makes piano builders and restorers laugh. It never struck them that wippens, when turned on end, look remarkably like horses. As for pianists, one who saw the work said, "After 50 years of playing the piano, I didn't think I would find anything about the instrument that I didn't already know."
We created the pieces made of ivory stripped from piano keys thinking about the history of the material, the colonial era, the slaughtered elephants and enslaved Africans; the epoch when there was a piano in every parlor and the thousands of fingers that touched these very keys; the music that was made. (One piece has 1,640 ivories some estimated to be nearly 200 years old.) People get this, too, and respond to the incredibly tactile nature of ivory, wanting to touch it, maybe connecting with that history.
Do you have any comments on the new Bösendorfer Klimt model or the concept of special design pianos. How does this kind of art/design relate to your art?
We love the idea of special design pianos! Of course, individually painted lids and soundboards have a noble history dating back to the Renaissance and there is no reason why the tradition should not be continued today. We would like it even more if Bösendorfer collaborated with living artists, (there must be hundreds of first rate artists living in or near Vienna) perhaps asking them to be inspired by Klimt and create art to embellish one-of-a-kind modern art pianos.
Art now looks different on the outside but is still the same on the inside. Pianos now look the same on the outside but are remarkably different on the inside. Artists and businesses working together can easily highlight the ways in which we are all moving forward.
Bösendorfer's Klimt project relates to ours in that it is a mutually beneficial collaboration between local artists and local business. It's tied in with the history of the place and the instrument, and all the
people- artists, craftsmen, musicians, piano makers – who came before us. It's easy, and unfortunate, to forget that things like pianos are now, and have always been, on the cutting edge of technology while firmly rooted in a glorious past.
Which are your plans for the near future and how will you develop the concept?
As for the future, we have every intention of continuing our collaboration in some way or another. Faust Harrison, in addition to taking on other artists making art out of pianos, will house the collection in their showrooms after the run of the show. For our next project, Penny and I have thought about taking on another instrument or some other kind of "machinery." So far, we have rejected that idea as it feels more a like a "me too" than something fresh and inspired. We are both painters, so the current notion is to try to find a way to paint together and to do it in such a way that a business would be interested in collaborating with us. We have a number of ideas and will just keep going until we grow into one of them.
---
The exhibition debuted at Faust Harrison Pianos in White Plains, New York. Via the Flynn Gallery in Greenwich, Connecticut it is currently on its final stop is at Faust Harrison Pianos located at 207 West 58 Street, New York, New York where it will be displayed from May until October 2012.
Project Website : http://pianoasart.com
"Fascinating for anyone interested in the piano, music or art, the sculptures of Penny Putnam and Shauna Holiman are both intricate and beguiling, taking what looks on the surface like a familiar form and transporting it into the realm of Surrealism." -John Rockwell, Former Arts Critic for the New York Times
"Piano as Art, a creative collaboration between Penny Putnam and Shauna Holiman, is full of surprises. Sculptures made of the innards of pianos take on a life of their own, while suggesting the rhythms and tones that they once produced. Collages refer more broadly to the world of music, and photographs reveal the beauty of the forms and materials that were once combined in the finished piano. From sensuous ivories that served as piano keys to the battered wood of old piano legs, the elements of these works evoke the melodies of the past even as the works themselves have a life of their own, freed from the pianos that originally encased them." -Sheila Canby, Metropolitan Museum of Art