An early piano believed to have been played by Wolfgang Amadeus Mozart has surfaced in Germany and could be worth millions of euros, a radio station reported.
Public broadcaster SWR said the instrument was built in 1775 and acquired in the 1980s by piano manufacturer Martin Becker in the southern German city of Baden-Baden from an antiques dealer in Strasbourg, eastern France. When Becker decided to auction off the fortepiano, a music historian noticed the offer and "had a hunch that it could be the same long-lost instrument that Mozart played whenever he was in Strasbourg," SWR said. "I had the idea to offer it on (online auction site) eBay and maybe get between 30,000 and 40,000 euros for it," Becker told the radio station.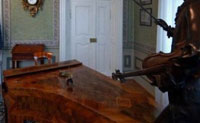 A historic oil painting in Vienna shows the composer Joseph Haydn, a Mozart contemporary, playing what may be the same instrument. The fortepiano, built by Christian Baumann, is one of eight known examples. Mozart was known to be a fan of Baumann's work, SWR said. SWR said auction house Christie's confirmed the piano's provenance in 2003, but a company spokesman told AFP that its US-based musical instrument specialists had never examined it. Experts said the piano could be worth millions if its illustrious pedigree is established.
/patrick