How about instant access on the go to 3000+ study scores from the standard classical piano repertoire?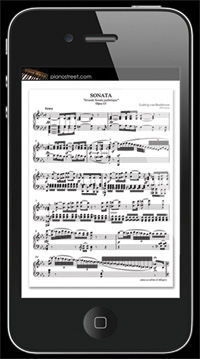 On m.pianostreet.com, a mobile version of Piano Street's sheet music library you can easily view all piano scores on your mobile device.
The mobile sheet music library gives convenient mobile access to all scores from www.pianostreet.com. It is a mobile application in the form of a website specifically adapted for mobile devices such as iPhone, iPad, Android devices and other smartphones. It also works well in many less advanced mobile phones with Internet access.
1. Visit m.pianostreet.com with your mobile device's Internet browser.
2. Login with your Piano Street membership details.
3. Browse the composer lists to view any of the 23,000+ pages of sheet music.
Read more on the info page for the Mobile Sheet Music Library.
/nilsjohan