From the late 18th century, when the piano began to supplant the harpsichord as the world's chief keyboard instrument, it's been a fixture in many places. People had a piano in the parlor; churches had one in the basement for choir practice, and every school auditorium had one. Pianos even graced the stages of silent movie theaters during the early 20th century.
In the 21st century, as electronic instruments become more popular as less expensive options than traditional pianos, wood-and-wire keyboards are finding their way into landfills and junk heaps. Non-profit organization Pianos for People doesn't want these pianos uselessly deteriorating when others could benefit from them. Their mission is to restore and recondition these instruments to working order and then deliver them, free of charge, to needy and deserving families and groups.
There are many people who simply cannot afford a keyboard instrument of any type. While a suburban family might only need a simple spinet for their children's piano lessons, a school might dream of a 9-foot grand for its stage. One of Pianos for People's main sponsors, Jackson Pianos LLC, has many instruments in its shop. It has found, rebuilt and saved Steinways, Chickerings, Baldwins, Kimballs and many other brands.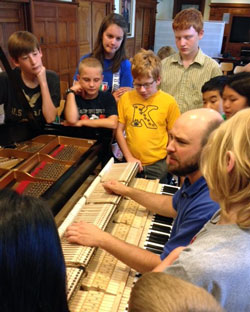 The project's genesis stemmed from an advertising executive, Tom Townsend, who lost his son in a tragic accident. Father and son had shared a love of music, and both played the piano. As a tribute to his late son, Townsend approached Joe Jackson of Jackson Pianos LLC and presented the idea of providing unused or discarded pianos to the needy. Jackson was instantly interested, and Pianos for People was born. They brought prominent St. Louis piano teacher Patricia Eastman on board, and, together, they bring music into people's lives.
All three of them smile when remembering the happiness of the recipients, many of whom jump up and down with delight. Others are simply speechless, but they are all extremely grateful for the gift. Townsend remarked that lonely pianos sitting in out-of-the-way places yearned to be played. He shares the joy of music with each person to whom Pianos for People delivers a freshly reconditioned and well-tuned instrument.