Practicing Perfection: Memory and Piano Performance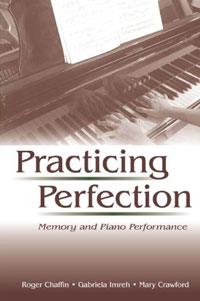 The memory capacity of famous musicians seem almost superhuman. Can such outstanding accomplishments be explained by the same principles associated with ordinary, everyday memory related abilities? This is the story of how the pianist went about learning, memorising and polishing the last movement of Bach's Italian Concerto, from the viewpoints of the pianist (author no. 2) and of a cognitive psychologist (author no. 1) observing the practice. The counterpoint between these insider and outsider perspectives is summarised by the observations of a social psychologist (author no. 3) about how these two viewpoints were settled.
Written for both psychologists and musicians, the book "Practicing Perfection: Memory and Piano Performance" by Roger Chaffin, Gabriela Imreh and Mary Crawford, (Psychology Press, 2002) provides the first detailed description of how an experienced pianist organises her practice, identifying stages of the learning process, characteristics of expert practice, and practice strategies. The core of the book, however, is on memorisation. An analysis of what famous pianists of the past century have said about memorisation reveals considerable disagreement and confusion. The authors point out how principles of memory developed by cognitive psychologists apply to musical performance and reveal the close connection between memory and interpretation.
"Of all the interdisciplinary collaborations of late between psychologists and performers, surely the most fruitful… has been that of the American-Romanian concert pianist Gabriela Imreh with cognitive psychologist Roger Chaffin and his wife the social psychologist Mary Crawford. I would go so far as to say that the report of their research should be required reading for every pianist, piano student and teacher in the land." – Piano Journal
Critical review from Empirical Musicology Review
Review on memorisingmusic.com
Get the book at Amazon.com
---
How about you?
How many month of practice do you expect that you would need before confidently performing a new piece, equivalent to the 3rd movement of Bach's Italian Concerto?