Resonance Piano – Recreating Piano Sound
We are living in times when acoustical and digital soundworlds merge in a multiplicity of ways. This year's Cremona Musica exhibition offered a chance to experience some of the latest innovations in piano sound.
The 98 kilograms Resonance Piano is not an instrument in the traditional sense, but a grand piano designed soundboard functioning as a digital piano's "amplifier". Its creators, the Italian company Ciresa, have played an important role as manufacturers of loudspeakers and piano soundboards since the 1970s – their clients include giants like Bechstein, Blüthner, Förster, and Fazioli. The company aims to optimize the digital sound experience by enhancing the sound spectrum by means of natural materials.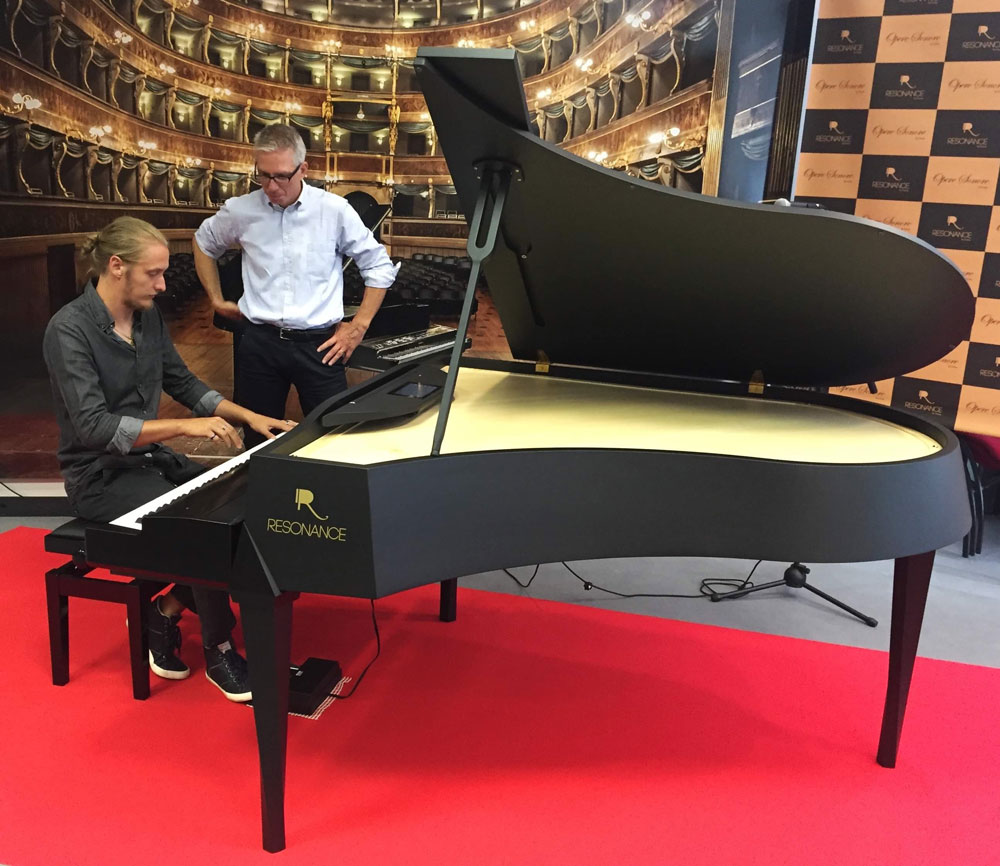 Resonance Piano actually consists of two suspended soundboards, one for the whole frequency range and the other for the mid-bass. These, along with the necessary electronics, come in a grand piano-shaped case with legs. The output of the digital piano is plugged into Resonance Piano and fed to transducers positioned across the soundboard, which then transmits the sound from across its entire surface, as opposed to a loudspeaker, which projects the sound from a single point.
The idea of merging a digital signal with natural soundboard amplification is not new and can be found in Yamaha TransAcoustic, Kawai Aures, and Steingraeber Transducer Grands. Resonance Piano, which sells for 15 000 euros, allows you to use the digital instrument of your choice.
Piano Street's Patrick Jovell met with CEO and inventor Fabio Ognibeni for a short interview.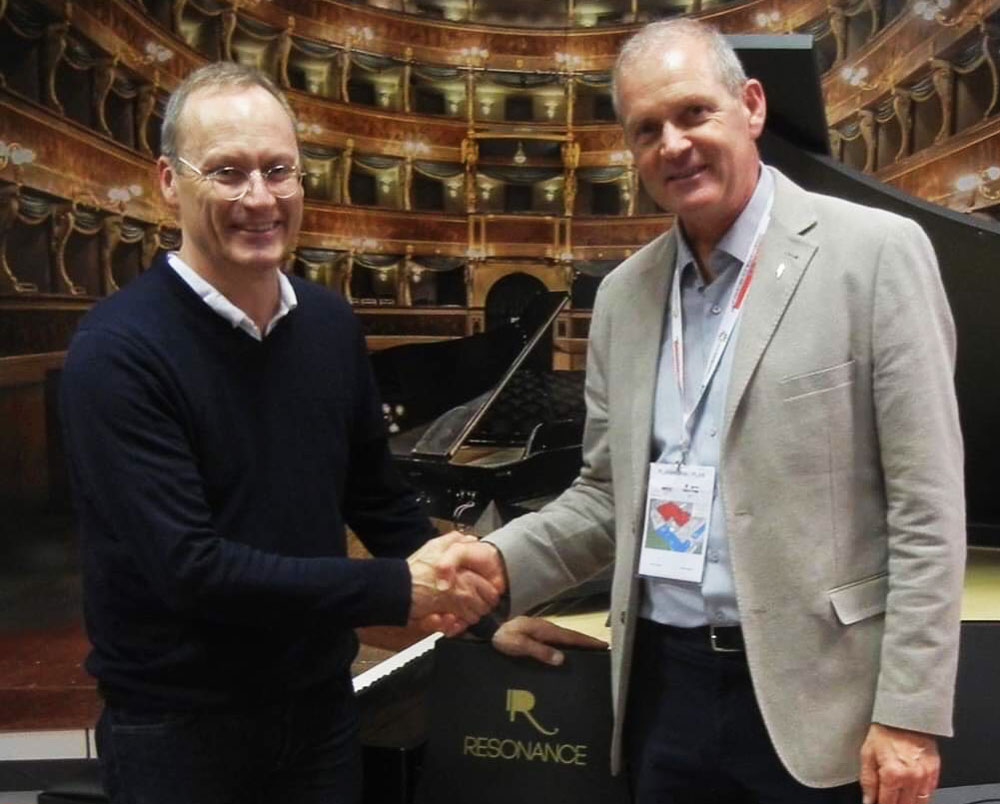 Piano Street: When reading about Resonance Piano we were surprised by the fact that this is an instrument without strings, yet in a Grand Piano design. How did you come up with the idea?
Fabio Ognibeni: Well, it comes from the fact that I have been talking and discussing with piano builders for thirty years. Working with producers of pianos, harps, and violins, we could discuss sound in all these fields and gather information and experiences. We understood that in whichever instrument we produced, we had to target the wood creating the best sound frequency in each kind of instrument.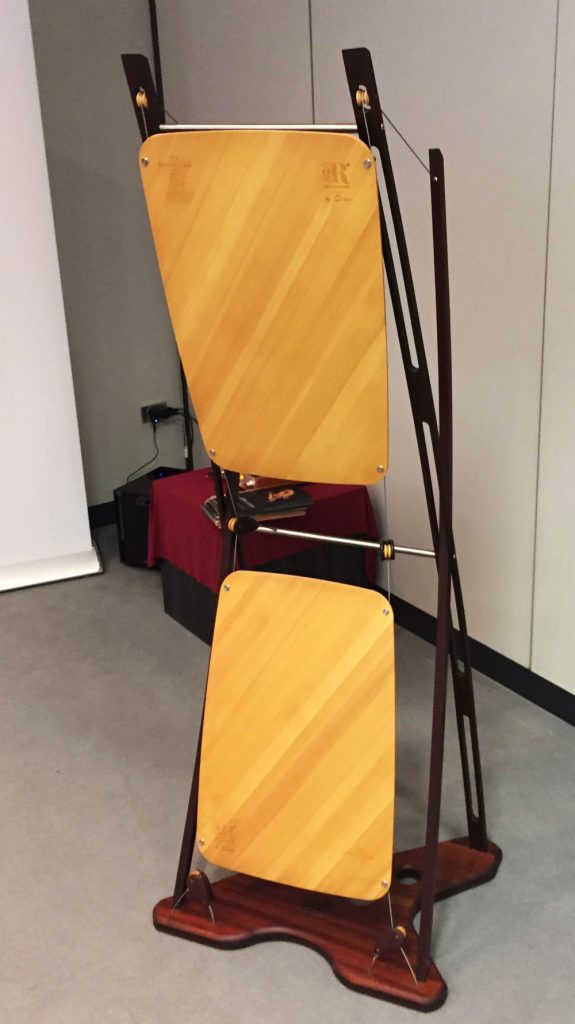 PS: You also manufacture loudspeakers and
I had the joy hearing Tchaikovsky's violin concerto from a CD on your device an hour ago – the sound was marvelous! How do you measure a digital sound source to be placed in a natural material? Is it possible to anticipate that in your soundboard construction?
FO: Each soundboard is designed to create the best possible acoustic sound. Even if you exchange digital instruments (sound source), the sound is quite the same. Of course it cannot be 100% exactly the same because the soundboard is a natural element, but all the soundboards are designed to produce the best acoustic sound possible, regardless of which digital instrumental source.
PS: Yes, the soundboard enhances the sound so to speak. In the "normal" world we go from a vibration to a tone. With a digital sound it is not a vibrating tone, is it?
FO: In digital pianos, the speakers vibrate – but we should remember that traditional speaker membranes are made of polyamide which is not a natural element. In origin, the sound is born in the tone of wood, not in plastic. My system offers the piano a way of reproducing and returning back the original sound through the natural wooden soundboard.
PS: I understand you use very special wood?
FO: Yes, the wood comes from Femme Valley – it's the best in the world! Stradivari and Guarneri used the same wood. We also use it for our loudspeakers, and it's used for harpsichords, harps, and violin instruments as well.

PS: How many instruments do you manufacture?
FO: We produce 3600 traditional soundboards every year. Resonance Piano is new and we have so far made only 8 of this model.
PS: Which kind of customers are you focusing on?
FO: I think the medium level pianist, schools and the pop/jazz pianist also. This system is very quick and easy to transport. The piano manufacturing industry is a world of very conservative thinking. Yesterday we had a renowned international performer here who found this instrument good for young people, but I think it's still too early to satisfy high-level performers.
Read more at resonancepiano.com