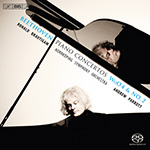 "A superbly articulated performance … enriched by a magnificent orchestral accompaniment."
At this year's MIDEM, the international gathering of the music industry in Cannes, Ronald Brautigam accepted an award for his recording of Beethoven's Second Piano Concerto (BIS-SACD-1792).
The MIDEM Classical Awards are bestowed by a jury consisting of representatives for the international music press and media, who selected Ronald Brautigam's recording as the best concerto disc of 2009. Part of a cycle of Beethoven's complete works for piano and orchestra, the disc also features a rarely heard early work by the composer, the Piano Concerto WoO4, for which Brautigam himself has made the reconstruction of the orchestral score.
Brautigam's partners in this project, which will be concluded in 2010 by the release of Piano Concerto No.5 and the Choral Fantasy, are the Norrköping Symphony Orchestra and conductor Andrew Parrott.
Links:
Listen online to sample tracks from the awarded album!
Beethoven – Piano Concerto no 2, sheet music to download and print

/patrick