Russian to Win the 16th Queen Elisabeth International Piano Competition in Brussels
63 contestants were taking part in the 16th edition of the Queen Elisabeth International Competition in Brussels this year, an event dedicated to pianists. The contest, set up by the Belgian Queen Elisabeth in 1937, is one of the largest and most prestigious musical competitions in the world. The Second World War interrupted the traditional contest for more than 10 years. However, in 1951 competition was brought back to life. The Competition aims to discover new talent among young musicians and open them a way to the world of big musical achievements. Since Leon Fleisher in 1952, the competition has seen moments of glory, with first prize-winners like Vladimir Ashkenazy, Andrei Nikolsky, Frank Braley, Severin von Eckardstein, and Anna Vinnitskaya. Now the competition consists of a four-year cycle, each year it specializes either on violin, piano, solo singing or composing, one by one. Some 63 musicians, 28 women and 35 men, were taking part in this year's competition. A total of 19 countries were represented at the contest by the most promising young pianists. The most numerous team at the contest was South Korea, with 15 pianists showing their talents in the Belgian capital. The semi-final saw 24 pianists, and the final, 12 (with notably five qualified South Koreans).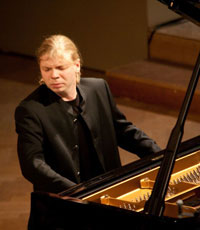 The winner DENIS KOZHUKHIN began his studies at the Balakirev Music School, before going on to further studies at the Escuela Superior de Música Reina Sofía in Madrid with Dmitri Bashkirov and Claudio Martinez-Mehner. Holder of a scholarship from the Banca Svizzera Italiana since 2004, he is currently studying at the International Piano Academy, Lake Como, with Fou Ts'ong in particular and with Menahem Pressler for classes in chamber music. He has performed on many occasions in Russia, Germany (Klavier- Festival Ruhr), Italy, France (Auditorium du Louvre, Salle Cortot, Théâtre du Châtelet), Switzerland (Verbier Festival), and Spain. A laureate in numerous competitions in Russia and Spain, he won Third Prize at the Leeds International Competition in 2006 and the First Vendôme Prize in Lisbon in 2009.
Winner´s repertoire during the final round:
Joseph HAYDN: Sonate in E-flat major Hob. XVI:49
Minje JEON: TARGET (1st prize, QEC in Composition 2009)
Sergey PROKOFIEV: Concerto no. 2 in g minor op. 16
Interview with Kozhukhin:
Listen to performance videos on demand (available until the 15 of September):