Samsung Smashes Haydn in Gothenburg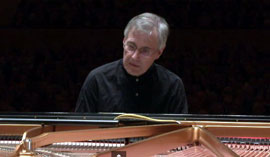 At a concert in Gothenburg Concert Hall October 23, 2013, pianist and conductor Christian Zacharias stopped playing in the middle of Haydn's D major Piano Concerto, interrupted by an audience member's cell phone ringing for the second time the same concert. At the end of a phrase in the first movement, Zacharias abruptly stops, looks back and says, "Don't answer. Let it ring." After some moments of awkward silence, he resumes the performance.
Måns Pär Fogelberg of GSOPlay, which films Gothenburg Symphony Orchestra´s concerts, said the offender hasn't yet come forward. "As far as we know, no one stepped up afterwards and claimed the ownership of either of the two phones that went off during the concert," says Fogelberg.
In an after-interview Christian Zacharias commented:

"Sometimes it´s just too much… we prepare all this and the least we can do to honor it is listening and being there in silence…"
The incident was filmed and immediately produced for a three-minute video that was widely disseminated on YouTube counting more than 50,000 views as of the following Friday morning:
---
Haydn killed by cell phone – part 2 – the encore:
Rondo in D major by Mozart

---
Read more about performances disrupted by phones:
Ringing cellphone disrupts New York Philharmonic performance
Pianist Krystian Zimerman storms out over phone recording