In early January this puzzling mystery gave a whole new meaning to the phrase "piano bar."
A grand piano appeared on a sandbar in Biscayne Bay, Miami.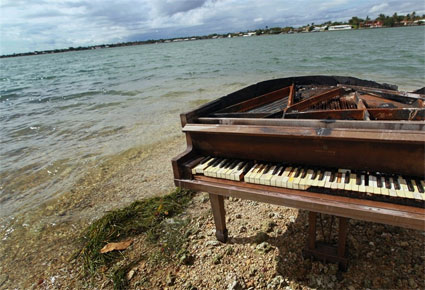 How and why the piano got there was a mystery.
A grand piano weighs at least 650 pounds and is unwieldly to move, said Bob Shapiro, a salesman at Piano Music Center in Pembroke Park. "You don't take it out there in a rowboat," Shapiro said.
A few days ago the mystery was solved:
A young man – Nick Harrington, 16 – had intended to make a "surreal video" of the piano perched atop the sandbar's highest point, with Miami's glittering skyline as a backdrop, to impress the college admissions officers at the Cooper Union in Manhattan, where he hopes to study art or music.
On January 2, Nick, his older brother, and two neighbors lifted the instrument onto the family's 22-foot boat and took it out on Biscayne Bay, leaving it on the sandbar's highest spot.
The video was never made, although Nick and his family took some pictures of him pretending to play it while the piano was on fire. Not long afterward, boaters discovered it, and for days people guessed about the back story of the "piano bar."
/nilsjohan