The Steinway Concept, the Last Son and the Amazing Journey From the Past to the Present and Into the Future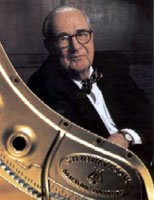 Henry Z. Steinway, former president of Steinway & Sons and great grandson of the firm's founder, died on September 18, 2008 at the age of 93. He was the last Steinway to run the piano-making company his family started in 1853. In 2003 when Steinway & Sons celebrated its 150th anniversary at Carnegie Hall, he represented the family.
Henry Z. Steinway is survived by his widow, Polly Zinsser, his sister Lydia Steinway Cochrane, and his five children.
Links:
Steinway & Sons: Remembering Henry Z Steinway
A Salute to Henry Steinway (2006) by pianist Richard Glazier
---
Steinway & Sons – 183 Years of Piano Making
Henry E. Steinway (1797 – 1871) was a German piano manufacturer and the founder of Steinway & Sons. He was born Heinrich Engelhard Steinweg in Wolfshagen im Harz, Germany. In 1835 he made his first square piano, which he presented to his bride Juliane at their wedding. In 1836 he build his first grand piano in his kitchen in the town of Seesen. This piano was later named the "kitchen piano", and is now on display at the New York Metropolitan Museum of Art with a Steinweg 1836 square piano.
Did you know…
…that the strings of a Steinway exert 46.373 pounds (21.079 kilograms) of tension and that it takes some 200 artisans to build a Steinway?
… that Software developers Garritan announced the release of the Authorized Steinway Virtual Concert Grand Piano, a sample-based software instrument developed in collaboration with Steinway & Sons. The Authorized Steinway Virtual Concert Grand piano accurately captures the distinctive sound of the hallmark Steinway & Sons concert grand piano – with unprecedented authenticity and musicality.
Have you heard…
…about the critic who accused Steinway of behaving like "the Microsoft of pianos"?
New York & Hamburg
Owing the unstable political climate in Germany, Steinweg decided to leave the country. He emigrated from Braunschweig, Germany, to New York City in 1851 with four of his sons, but before leaving he turned the German Company over to his son, Theodor Steinweg. Once in New York, he anglicized his name to Henry E. Steinway, and he and his sons worked for other piano companies until they could establish their own production under the name of Steinway & Sons in 1853. The business expanded with their inventions. The overstrung scale in a square piano earned the Steinway Piano a first prize at the New York Industrial Fair of 1855. In 1880 a Steinway Village was founded as its own town, in what is now Astoria, Queens New York City, with a new factory with its own foundries, post office, parks and housing for employees. Its early successes have been credited both to the high quality of its instruments and to brilliant marketing, including the showroom and the Steinway Hall. Steinway Street, one of the main streets in the Astoria and Long Island City neighborhoods of Queens, is named after the company. The second factory was established in 1880, in Hamburg, Germany.
In April 2005, the Steinway factory in Hamburg celebrated its 125th anniversary. Steinway employees, Steinway artists, dealers and friends from around the world celebrated at the Laeiszhalle – the Hamburg concert hall . The high point of the anniversary concert was a showcase performance by Steinway artist Lang Lang. As part of the celebration, the 125 th anniversary limited edition Steinway Art-Case piano by renowned designer Count Albrecht Goertz was presented to the public. The 125t th anniversary of the Hamburg Steinway factory was marked by a large festival of music, held on April 17, 2005.
Many of the great pianists of the past (referred to by Steinway as 'the Immortals') and many active concert pianists today have expressed a preference for either the New York or the Hamburg piano. Vladimir Horowitz played a New York model D, Arthur Rubinstein preferred the Hamburg model D. Sergei Rachmaninoff had two New York Steinways in his Beverly Hills home, and one New York D in his New York home, and later he chose a Hamburg D for his new villa Senar in Switzerland.
The difference between the New York and Hamburg instruments is less noticeable today, although some objective differences are well known: the American models have a black satin finish and square or Sheraton corners; Hamburg models have a high gloss polyester finish and rounded corners.
550,000 Pianos during the 20 th Century
By 1900, both factories were producing more than 3,500 pianos a year, for concert halls, schools, and private homes all over the world. In 1857 Steinway began to produce a line of highly lucrative art case pianos, designed by well-known artists, which became popular among the rich and famous. Today, these pianos sell for vast sums of money at auction houses. In 1903 the one hundred thousandth Steinway grand piano was given as a gift to the White House. It was replaced in 1938 by the three hundred thousandth, which remains in the White House to this day. Later, Steinway diversified into the manufacture of reproducing pianos. Several systems such as the Welte-Mignon, Duo-Art, and Ampico were incorporated. During the 1920s Steinway had been selling up to 6,000 pianos a year. Piano production fell after 1929, and during the Great Depression they produced just over 1,000 pianos a year. In the years between 1935 and WWII, demand rose again.
By the year 2000, Steinway had made its five hundred and fifty thousandth piano. The company updated and expanded production of its two other brands, Boston and Essex pianos, in addition to the flagship Steinway & Sons. More showrooms, and large and small concert halls were opening across the world, mainly in Japan, Korea and China.
At present, 2,500 Steinway pianos are built in New York every year, and 1,500 Steinway pianos are built in Hamburg. The market is loosely divided into two sales areas, New York Steinway supply North and South America with their pianos; Hamburg Steinway supply their pianos to the rest of the world. At all the main Steinway showrooms, pianos can be ordered from both factories. The New York and Hamburg factories exchange parts and craftsmanship in order to "make no compromise in quality", in the words of Henry E. Steinway. Steinway parts for both factories come from the same places: Canadian maple is used for the rim; the soundboards are made from Sitka spruce from Alaska. Both factories use similar crown parameters for their diaphragmatic soundboards. Recently Steinway has acquired some of its suppliers in order to maintain quality: the German manufacturer Kluge in Wuppertal, which supplies all the keyboards was bought up in December 1998; in November 1999, it purchased the company which supplies its iron frames, O. S. Kelly Co., Springfield.
New Company Structure
In 1995 Steinway Musical Properties, the parent company of Steinway & Sons, merged with the Selmer Company, and formed Steinway Musical Instruments, which acquired the flute manufacturer Emerson in 1997, piano keyboard maker Kluge in 1998, and the Steinway Hall in 1999. The new combined company was renamed Steinway Musical Instruments, and made further acquisitions in the following years. Since 1996 Steinway Musical Instruments, Inc. has been traded on the New York Stock Exchange (NYSE) under the name LVB (Ludwig van Beethoven).
AkivMusic
On May 19 2008 Steinway Musical Instruments announced the acquisition of ArkivMusic LLC, an online retailer which operates ArkivMusic.com. This website is devoted to sales of classical music on the Internet. Service delivery of physical media (CDs, DVDs, etc.) is fulfilled from 20 distribution centers. Steinway intends to tie in Steinway artists via this Internet channel. ArkivMusic will continue to operate as an independent contributor to the Steinway group, but will consolidate its financial result with other Steinway businesses.
Many are the artists willing to express the specific quality of their Steinway relationship:
"Steinway is the only piano on which the pianist can do everything he wants. And everything he dreams."
Vladimir Ashkenazy
"The Steinway piano is such an incomparable instrument. Due to its virtues, I am able to express all my musical feelings."
Daniel Barenboim
"Sometimes a Steinway plays better than the pianist, and it is then a marvelous surprise."
Martha Argerich
"I want to make music. That means I prefer the Steinway piano."
Alfred Brendel
The Steinway Artist Program
In contrast to other makers, who presented their pianos to pianists, William Steinway engaged the great Russian pianist Anton Rubinstein to play an American concert tour in 1872, with 215 concerts in 239 days, all on Steinway instruments. It was a triumph for both Rubinstein and Steinway & Sons. Later Ignacy Jan Paderewski played 107 concerts 117 days, travelling through America with his own railroad car and Steinway concert piano. This was the birth of the Concert & Artist program.
The Steinway Artist Program has not been without opponents and controversy.
Steinway artists are expected to perform exclusively on Steinway instruments wherever a Steinway is standing or can be carried to. Angela Hewitt was dropped from Steinway's roster in 2002 after performing a concert on a Fazioli piano. The Canadian pianist Louis Lortie has complained that Steinway is trying to establish a monopoly on the concert world by becoming "the Microsoft of pianos."
However, no one can dispute Steinway´s enormous impact on the whole concept of piano sound and state-of-the-art instrument quality standards for past, present and future generations of musicians. Founder Henry Steinway once said, "Build the best piano possible and sell it at the lowest price consistent with quality."
In 1988 Steinway & Sons made their five hundred thousandth piano, a milestone in the history of musical instrument making. The piano was built by the factory in New York, with some participation from the Hamburg Steinway factory. The five hundred thousandth Steinway piano was designed by artist Wendell Castle and was named "The grand of the artists".
All the 800-plus Steinway Artists signed the piano with their names, including Vladimir Horowitz and Elton John. It is still on its concert tour around the world.
According to Steinway & Sons, 98% of piano soloists chose to play publicly on a Steinway during the 2005–2006 North American concert season. The majority of the world's concert halls have a Steinway D-274, some have both New York and Hamburg D's to satisfy a greater range of performing artists. Today over 1,300 concert artists and ensembles bear the title "Steinway Artist," which means that they have chosen to perform on Steinway pianos. Each owns a Steinway and none is paid to do so. Well known piano competitions such as the Gina Bachauer International Piano Competition are sponsored by Steinway and use their instruments exclusively.
Picking the right Steinway…
Let us now take a step into the everyday world of a concert pianist. In this multimedia presentation (from the New York Times) we learn the different steps and considerations taken when choosing a Steinway grand for a scheduled Brahms piano trio recording…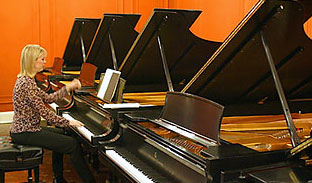 Multimedia presentation by The New York Times:
A Unique Sound