New Super Mario Piano Sheet Music
Super Mario – The Czerny Studies of Our Time?
Are there any pianists out there who have never played studies by Czerny as part of their training? Probably not many. It is a fact that the technical and stylistic formulas necessary for playing the masterpieces of Haydn, Mozart, Beethoven and other classical composers can be developed by playing Czerny's studies.
It is, however, a controversial issue, since many teachers argue that valuable practice time should not be wasted on such mechanical and artistically dry pieces when the same results can be achieved by practicing real music.
From another point of view, we do not only play music from the classical period these days. If you want to equip yourself with sufficient technical and musical skills to play, for example, Fanfares, one of the more frequently played études by György Ligeti, old Czerny may not be exactly what you need.
The main problems in the étude are:
1. Playing quick series of double-notes of various intervals in irregular patterns,
2. Synchronizing the irregular "melody" with a syncopated accompaniment,
3. Delivering a constant stream of eighth notes in such syncopated patterns for 11 pages without losing focus and "falling off the rope".
Instead of Czerny, a better preparatory exercise for this piece could be the well-known Overworld Main Theme from the video game Super Mario Bros, composed by Koji Kondo. It contains the first two of the above-mentioned problems but in a more accessible format, while the third issue (focus/sustained attention) could possibly be practiced by playing the actual video game, aiming to go all the way through and beat Bowser without making a single mistake.
The New Super Mario Series by Alfred Music Publishing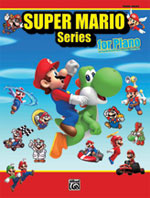 Last week, Alfred Music Publishing released officially licensed piano scores for the popular Super Mario Bros.™ video game series. This collection of 34 pieces contains the instantly recognizable melodies beloved by generations of gamers around the world, and is available in two versions: original transcriptions and easy piano arrangements.
From Koji Kondo's iconic Super Mario "Ground" background music to the new Super Mario Wii™ themes, the dozens of pieces in these books represent two and a half decades of Nintendo video game favorites.
The easy piano arrangements are simplified to make them enjoyable for novice pianists, although the rhythmic complexity as well as the often un-pianistic melodic patterns makes them quite a challenge even for the intermediate level pianist. The "Intermediate-Advanced Piano Solos" book features note-by-note transcriptions for solo piano performance. Many of these are technically demanding, which makes them suitable exercises for both "serious" contemporary music as well as for various pop music styles.
Samples pages of the sheet music:
Easy piano: Ground, Underwater, Battle and Desert background music
Original arrangement: Ground background music
Read more on Alfred Music Publishing
Mariopiano.com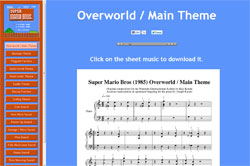 Another source of Super Mario piano scores is the website mariopiano.com which offers "didactic arrangements" of all themes and sound effects from the original Super Mario Bros (1985).
These are also note-by-note transcriptions of the original 8-bit NES music where the didactic merits are in the form of well-crafted fingerings and that all pieces are notated in alla breve in order to facilitate rhythmic reading.
Examples: Overworld Main Theme & Underwater Theme
…and from Mariomayhem.com: Super Mario Brothers for the piano
Let's now look 100 years ahead. Will this be the typical opening phrase of a lesson with the 22th century piano teacher?
"Let's begin with the scales and then I would like to hear your Mario Studies."