Free tickets for Piano Street's members
Thanks to a collaboration with the Berliner Philharmoniker Digital Concert Hall, all Piano Street members can enjoy free access for 48 hours to the Digital Concert Hall. Log in to your Piano Street account to get your free voucher code which gives you instant access to the Digital Concert Hall. Take the opportunity to see the film about pianist Menahem Pressler until June 15 and to access all concerts in the archive!
---
Everyone Should Hear Him Once! The World Celebrates Menahem Pressler
A phenomenal musician and iconic tutor, German born American-Israeli pianist Menahem Pressler was the heart of the magnificent Beaux Arts Trio since their start in 1955. In 2008 the trio separated but Pressler decided to embark on a solo career. At 85, a unique decision praised by the musical world. Pressler has since then been heard with the major orchestras around the globe. A chamber musician beyond comparison, with clear eyes and a prodigious mind, Pressler is a window to the past. Still, continuously curious and with a tablet PC under his arm, he embraces the 21st century while sharing his endless love for music.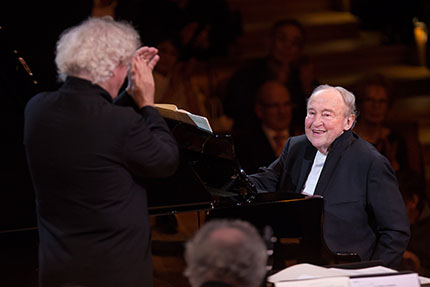 In 2014, the 90-year-old maestro gave his long overdue debut with the Berliner Philharmoniker and film maker Grete Liffers decided to enrich the world with a portrait of the artist's life and thoughts. Here the audience can gain deep insights into the life of Menahem Pressler including new recorded talks, excerpts from one of his Master Classes and interviews with artists like Daniel Harding, Leonidas Kavakos and Daniel Hope.
See the film with your Digital Concert Hall ticket:
www.digitalconcerthall.com/en/film/231
---
The new DVD Release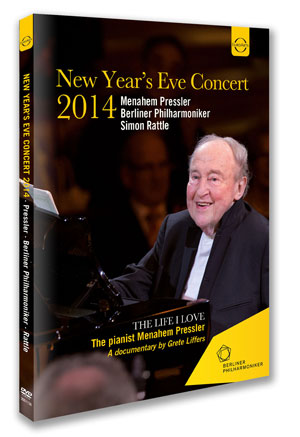 The film THE LIFE I LOVE is a bonus coupled with the Berliner Philhrmoniker's New Year's Eve Concert 2014 and is now available on DVD. It opens with Sir Simon Rattle conducting music by Rameau and then Menahem Pressler chose W.A. Mozart's Piano Concerto in A major, K. 488. Following the intermission, the musicians ring in the New Year in a lively way with Slavic strains: an orchestral suite from Zoltán Kodály's charming folk opera Háry János as well as a selection from the popular Slavonic Dances by Antonín Dvorák.
Watch trailer:
Repertoire:

JEAN-PHILIPPE RAMEAU Suite from Les Indes galantes
W. A. MOZART Piano Concerto in A major K. 488
FRÉDÉRIC CHOPIN Nocturne in C-sharp minor Op. 27 No.1
ARAM KHATCHATURIAN Gayaneh Suite No. 1 Lezginka
ANTONÍN DVORÁK Slavonic Dances in E minor Op. 46 No.2 & in C major Op.72 No.7
ZOLTÁN KODÁLY Háry János Suite ·
JOHANNES BRAHMS Hungarian Dance No. 1 in G minor
BONUS:
The Life I Love – The Pianist Menahem Pressler
Buy the DVD with the 2014 New Year's Concert and the film THE LIFE I LOVE
/nilsjohan