The Audiovisual Study Tool (AST) Updated
In a significant improvement of Piano Street's Audiovisual Study Tool (AST), Naxos Music Library is now fully integrated allowing users to conveniently stream recordings without logging in separately to a Naxos Music Library account.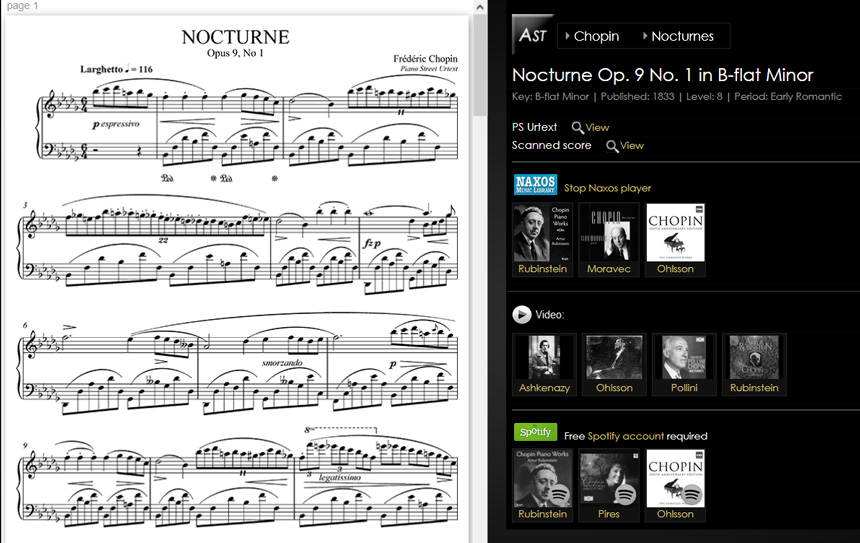 Moreover, 623 pieces by 8 composers have been added to the AST. Sheet music connected to recordings of piano pieces by Clementi, Haydn, Mussorgsky, Prokofiev, Rachmaninoff, Satie, Scarlatti and Schubert are now available one mouse click away, along with the piano music by Bach, Mozart, Beethoven, Chopin and others.
About Naxos Music Library
As the leading online streaming service specialised on classical music, NML contains more than 126,260 CD-length recordings, equivalent to 1,931,800 tracks, with an average addition of 1,150 CDs every month.
The new integration allows Piano Street users (Gold member level) to stream the complete catalogues or selected recordings of over 800 labels such as BIS, Capriccio, Chandos, CPO, CSO Resound, Decca, Deutsche Grammophon, Erato, Dynamic, Finlandia, Grand Piano, Hänssler Classic, Harmonia Mundi, Hungaroton, LSO Live, Marco Polo, Naïve, Naxos, New York Philharmonic, Nimbus, Nonesuch, Ondine, Orfeo, PentaTone, RCA Records, Sony Classical, Supraphon, Teldec, Universal Classics, Vanguard Classics, Warner Classics, Warner Classics – Parlophone (former EMI Classics) and many more.
Log in for instant access (Gold members only), or read more about the AST here:
www.pianostreet.com/ast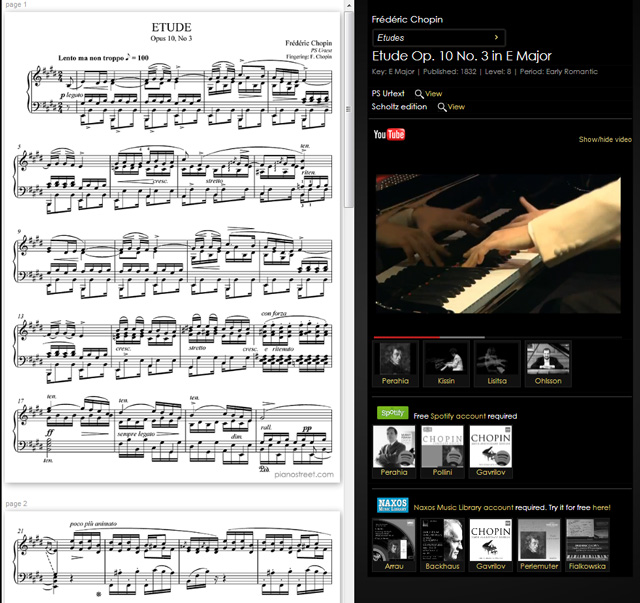 The Audiovisual Study Tool (AST) allows you to:
Learn piano pieces faster
Improve your interpretational skills
Broaden your repertoire knowledge
Improve your sight reading
Effortlessly enjoy the great art of classical piano music
In the new AST version, 2200+ pieces by 28 of the most popular piano composers are included.
When logged in to your Gold membership account, look for the AST icon in the digital sheet music library to instantly open the AST for that piece: