The Hidden Piano Treasure of Jean Sibelius
Strangely enough, it would be quite easy to attend piano recitals for years and never hear a note of Sibelius. Now Norwegian pianist Leif-Ove Andsnes makes an adventurous raid into Sibelius' native Finland and want us to change that. It is not surprising that his playing is immaculately detailed and sympathetic.
The Finnish master wrote over 150 works for piano, but these works have long languished in the shadow of his orchestral music. His piano pieces were often seen as lacking in the rich, sonorous textures that the composer brought to his full orchestral works and were therefore largely disregarded. However, Sibelius was not alien to the piano and two dozen orchestral works were also written as piano versions. He also composed some 110 songs with piano accompaniment and around 50 chamber music works including the piano.
In the past, pianists such as Vladimir Ashkenazy and Glenn Gould have expressed admiration for Sibelius piano compositions and now Andsnes has scoured the composer's entire piano output, carefully selecting the pieces he believes deserve recognition and with which he feels a strong personal connection, uncovering 'intriguing works with the wonderful Sibelius qualities we know'. Another notable mega mission is Finnish pianist Folke Gräsbeck's Sibelius Complete Piano Music on BIS label as a part of the "The Sibelius Edition" – 68 discs in 13 thematic boxes containing all the music Jean Sibelius ever wrote,
Andsnes' new album on SonyClassical, was recorded at the Teldex Studio in Berlin at the beginning of this year.
"There has been such a feeling of discovery", Andsnes says. "Everyone was astonished that there can be a major composer out there with such beautiful, accessible music that people don't know. The fact that many will be hearing it for the first time, that's a wonderful feeling".
In the context of Sibelius' variable output for the piano, Andsnes has chosen his programme judiciously. Almost all the items are short impromptus, bagatelles, and descriptive mood pieces, some elegantly recalling Chopin, all of them highly enjoyable.
NEW! Click the album cover to listen to the complete album: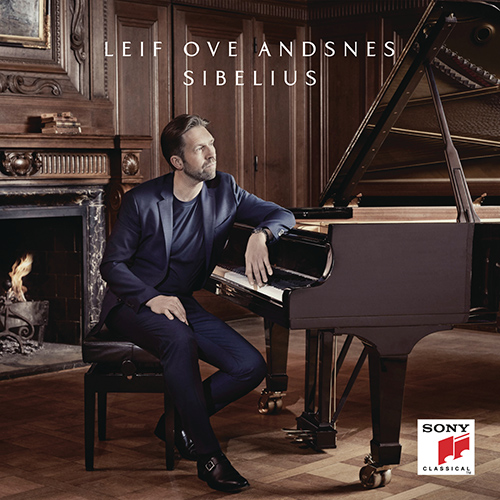 (This is a new feature available for Gold members of pianostreet.com)
Buy the
CD from SonyClassical
Since copyright restrictions apply, scores for Sibelius' piano pieces are not freely available in most countries until 2028.
For reference scores, please visit this page at imslp.