The One and Only Alfred Brendel
Now retired from the stage and the piano and recently turned 85, Alfred Brendel remains regarded as a serious intellectual with a mischievous sense of humour.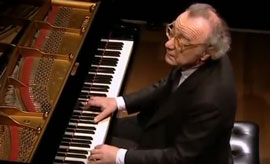 In a wonderful 70-minute documentary that reflects his childhood and early influences, Brendel reveals his stature as a performer, expresses his admiration for the work of other artists and shares his views on life and music. The film includes full performances of sonatas by Haydn and Mozart along with Schubert's Impromptu No. 3 in G-flat major as well as Brendel's own poetry.
Make sure not to miss the 30-minute conversation at the piano, in which Sir Simon Rattle and Alfred Brendel work on Beethoven's second and third Piano Concertos inviting us to take part in the discussions as well as on stage with Vienna Philharmonic Orchestra.
"Mr Brendel's playing is that of a connoisseur; at every turn, you feel his obsessive interest in how the beautiful thing has been put together, in what makes it tick." – New York Observer
Samples from the documentary: