Boxed Tribute to Retiring Brendel
Alfred Brendel: The Complete Vox, Turnabout,
and Vanguard Solo Recordings, 1958-1970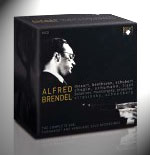 Alfred Brendel, who during his six decades of performances, mastered the works of Mozart, Beethoven, Haydn and Schubert, has now decided to explore other passions in life such as literature and painting. He will give his last concert on December 18, 2008, in Vienna. Brendel will be 77 in January 2009.
In order to pay tribute to the great Austrian, the Brilliant Classics label has released a 35 CD box with early recordings, covering the period 1958-1970.
Read more at Brilliant Classics.
Alfred Brendel on Music – Collected Essays

Known to many as an excellent writer on music (see example below), Brendel's sharp eyes behind his glasses has not only traced the absurdities of the world but also uniquely and simultaneously added wit and humour to every insight revealed.
"To sit down and start Haydn's last C major sonata with a tortured look is even worse than to embark on the so-called Moonlight sonata with a cheerful smile." (from Alfred Brendel´s essay "Must Classical Music Be Entirely Serious?")
Alfred Brendel discusses Classical and Romantic masterpieces, as well as various other musical subjects, in this collection of essays dating from the 1960's to the present. Pianists will find the chapters on Beethoven and Schubert sonatas, in which Brendel touches on style and interpretation,
with excerpts from the scores, especially useful. There is also a truly valuable section about Schumann's Kinderszenen. Brendel's essays make most rewarding reading. For a start, he is a good writer. He has a keen appreciation of the virtues of musical anecdote used to make a point. Numerous other essays are accessible to non-musicians as well, and can be enjoyed simply for the author's wit and insight.
'Coping with Pianos' and 'A Case for Live Recordings,' for example, would be of interest to any music lover.
http://www.alfredbrendel.com/books.php
Edit 15 Dec 2008:
Excerpt from an interview with Brendel published today in The Guardian