Twelve Nocturnes and a Waltz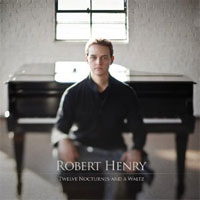 Critically-acclaimed American pianist Robert Henry presents his highly anticipated debut recording "Twelve Nocturnes and a Waltz".
Released in 2010, this recording is a compilation of some of the world's best loved melodies, featuring Nocturnes of Chopin, Fauré, Grieg, Liszt and many others, including the world premiere of Alexei Stanchinsky's forgotten Nocturne from 1907.
We asked Robert about his discovery of this previously unrecorded piece.
– It is unusual to find a piece that has yet to be recorded. Nevertheless, Alexei Stanchinsky's forgotten Nocturne from 1907 has somehow slipped under the radar for over 100 years. It is indeed unrecorded and the sheet music is long out of print. Perhaps the treacherous difficulty of this piece has scared pianists away; this is easily the most difficult Nocturne of the CD, if not the entire repertoire. Or, perhaps the suicide of the 26-year-old Stanchinsky invites an unwelcome element of macabre. Whatever the reason for the neglect, it is undeserved; Stanchinsky was considered by his colleagues and professors to be potentially a greater talent than fellow classmate Rachmaninoff. With this world premiere recording of Stanchinsky's Nocturne, I hope to have surfaced a long buried treasure, and helped to restore Stanchinsky's prestige as an immensely talented young composer.
As a tribute to one of his musical mentors, Robert has created his own transcription of Chet Atkins' Waltz for the Lonely. Regarding his transcription, Robert adds:
– I think the original Waltz by Chet is truly a fine piece of music, intimate and quaint. I've played it all over the world, even at Carnegie Hall. For years, my arrangement was simple and a bit different from one performance to the next, but for this recording I decided to go for it and created a 1920's Grand Romantic transcription in the manner of Leopold Godowsky and Sergei Rachmaninoff, gently bordering on jazz. I tossed in a bit of Copland, too, and the rest is myself. When I release the sheet music later this year, I'll include this much harder version and a simplified arrangement. I hope everyone can enjoy both playing it and listening to it.
A video documentary of Robert's recording experience, "The Making of Twelve Nocturnes and a Waltz", has recently been awarded two Telly Awards. View the documentary:
Back in 2001, when Piano Forum was started, Robert was one of the very first contributors. Exclusively for Piano Street and its members, Robert has now kindly provided a free sample track from the CD, Liszt's Liebestraume:

Sample track:
Liszt – Liebesträume: Notturno No. 3
Free sheet music of Liebesträume: Notturno No. 3 by Liszt from Piano Street to download and print:

Links:
Robert's website www.roberthenry.org
---
Robert Henry is an internationally distinguished pianist who has been heard throughout the world as soloist, accompanist and chamber musician, presenting critically-acclaimed solo debuts at the Kennedy Center and Carnegie Hall. A recently named Steinway Artist, he has enjoyed success in nearly every important piano competition in the world, winning the Gold Medal in four International Piano Competitions in the 2001-2002 season alone. Future projects include a London debut in Wigmore Hall and a debut recording of Nocturnes, to be released in 2009. He currently serves as Artist-in-Residence at Kennesaw State University. Mr. Henry earned the Doctor of Musical Arts degree from the University of Maryland.