Two New Mozart Piano Pieces Discovered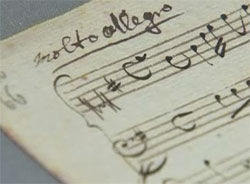 The International Mozarteum Foundation in Salzburg has announced it has discovered two previously unknown compositions written by Wolfgang Amadeus Mozart.
"The Department of Research at the International Mozarteum Foundation Salzburg has identified two works, which have long been in the possession of the Foundation, as compositions of the young Wolfgang Amadeus Mozart," the foundation said in a recent statement, without giving any more details.
The two pieces for piano are to presented to the press on August 2. They will be performed by clavichordist Florian Birsak on Mozart's own fortepiano at the family's old Salzburg residence.
This latest score is not the only one to have resurfaced in recent years however. Last September, a library in Nantes, in western France, unveiled a hitherto unknown music score by Mozart that had lain in its archive undiscovered for over a century. It was authenticated by the Mozarteum.
In 2006, a year filled with celebrations for the 250th anniversary of Austria's favourite son, another piano score extremely likely to be the work of young Wolfgang Amadeus was discovered in Salzburg.
In May of last year, experts also identified three mystery musical scores discovered at Poland's historic Jasna Gora Roman Catholic monastery in southern Poland, as possible Mozart creations.
---
Added 20 August 2009:
From NTDTV on August 03, 2009:

Listen to one of the two new pieces performed on harpsichord by Florian Birsak in Salzburg, August 2009: