The Ukrainian pianist Valentina Lisitsa is perhaps the most striking example of how the Internet and, more recently, social media has created completely new opportunities for classical artists.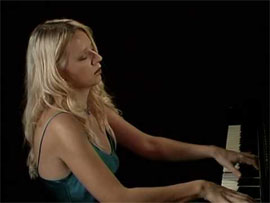 Without initially signing to a record company or tour promoter, her unique path to success has been through independently-released material published in her YouTube channel. With more than 45 million YouTube views, she is one of the most viewed classical musicians on the web.
Valentina has just recently signed to a major label, Decca Classics, and her first album for the label was the Royal Albert Hall recital on June 19, which was speedily produced and released digitally on June 25 and on CD on July 3.
The speed of events has impressed even such a master of new media as Valentina herself:
– It's just amazing how quickly Decca have been able to make my music available to all my many fans around the world, both old and new. Uploading my own videos to YouTube is pretty instant, but to think that people could download this live album less than a week after the concert, or buy an actual CD copy two weeks after that, is thrilling!
Paul Moseley, Managing Director, Decca Classics, said:
– Valentina is a truly unique artist. Her YouTube fame is genuine and well-deserved, and we are proud to be working with her as she reaches out to huge numbers of classical fans in a modern and very immediate way.
The Albert Hall program was chosen by her internet fans and is therefore, not surprisingly, quite much like a Greatest Hits of classical piano.
The album at amazon.co.uk
Read the program notes for this concert.
Program


18:00 Introductory talk by Valentina Lisitsa


25:01 Liszt: Hungarian Rhapsody No. 12


36:32 Mozart: Fantasy in C minor K.475


48:09 Schubert-Liszt: Des Mädchens Klage


52:17 Schubert-Liszt: Der Doppelgänger


56:37 Schubert-Liszt: Erlkönig


1:01:39 Beethoven: Sonata, Opus 27, No. 2 "Moonlight"


1:18:15Intermission (Q&A with Valentina)


1:38:37 Rachmaninov: Etude – Tableau, Opus 39, No. 6


1:41:05 Rachmaninov: Prelude G major Op. 32 No. 5 "A lost paradise"


1:44:25 Rachmaninov: Prelude G sharp minor Op. 32 No. 12


1:46:38 Rachmaninov: Prelude B minor Op. 32 No. 10 "The abyss"


1:52:12 Rachmaninov: Prelude G minor Op. 23 No. 5


1:56:04 Scriabin: Two Poemes, Opus 32


2:00:11 Scriabin: Etude Opus 42, No. 3 "Mosquito"


2:01:03 Scriabin: Etude Opus 65, No. 1


2:04:03 Chopin: Nocturne in C minor, Opus 48, No. 1


2:09:33 Chopin: Nocturne in D flat major, Opus 27, No. 2


2:14:57 Chopin: Nocturne inE flat major, Opus 9, No. 2


2:19:01 Liszt: Totentanz S.525
Encores


2:35:10 Schubert-Liszt: Ave Maria


2:41:00 Liszt: La Campanella
/nilsjohan