Warsaw: The Most Influential Piano Competition Enters Its Grand Finale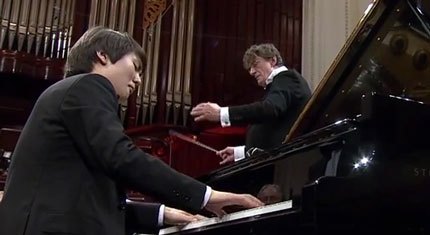 Protecting and Expanding Chopin's Legacy
Every five years the whole pianistic world moves to Warsaw and the International Chopin Piano Competition. Since the first which took place during the winter of 1927, the Competition now presented its 17th edition which highlights the grand Polish composer's works and rewards its best interpreters. The legendary Polish initiative has helped to discover such great prize winning artists as Lev Oborin (first winner), Bella Davidovich, Adam Harasiewicz, Vladimir Ashkenazy, Maurizio Pollini, Martha Argerich, Garrick Ohlsson, Mitsuko Uchida, Krystian Zimerman, Yundi, Rafał Blechacz, Yulianna Avdeeva, Ingolf Wunder and Daniil Trifonov but also famous non-laureates such as Ivo Pogorelich.
Measuring Excellence
What stands clear, beginning with the 1955 competition, is its immense influence on piano playing worldwide. Winners and Prize-Winners are in most cases able to perceive important international careers, on the concert circuit and as recording artists. Their pianistic influences often become a contemporary map of stylistic excellence and cannot be overrated. Beginning this year, pianists aged 16 (uptil 30) were allowed to the competition. This resulted in 445 applicants. The preliminary elimination round took place this spring and 84 pianists qualified for the First Stage which started on October 3rd.
A Most Prestigious Jury
Eventually twenty competitors participated in the Third Stage of the Competition and ten of them made it to the Grand Finale, which started on October 18 and the finalists performing one (of the two) Chopin piano concertos with The Warsaw Philharmonics. Following the last day of the Grand Finale on October 20, the Prizes will be awarded. The winners are chosen by an international jury comprising great pianists all of whom are Prize-Winners from previous Competitions and teachers, pedagogues and specialists in Chopin's music.
List of the participants of the finals:
Mr Seong-Jin Cho (South Korea)
Mr Aljoša Jurinić (Croatia)
Ms Aimi Kobayashi (Japan)
Ms Kate Liu (United States)
Mr Eric Lu (United States)
Mr Szymon Nehring (Poland)
Mr Georgijs Osokins (Latvia)
Mr Charles Richard-Hamelin (Canada)
Mr Dmitry Shishkin (Russia)
Mr Yike (Tony) Yang (Canada)
You can follow the Grand Finale (until October 20th) and the Prize-Winners' Concert (October 21) of the 17th International Fryderyk Chopin Piano Competition live and discover the piano stars of tomorrow.
Video, Grand Finale October 18, all finalists playing Piano Concerto in E minor, Op. 11:
Seong-Jin Cho (South Korea)
Aljoša Jurinić (Croatia)
Aimi Kobayashi (Japan)
Kate Liu (United States)
Resources:
The official Competition website: http://chopincompetition2015.com
The official iOS app: https://appsto.re/pl/jBvv6.i
The official Android app: http://goo.gl/u93t9T
Chopin Competition YT channel
The Winner 1970 Garrick Ohlsson speaks: Pianist, Know Thyself
Coming up:
Unique interview: Piano Street's Patrick Jovell meets with the Chopin Institute's director Stanislaw Lesczcynski