Take Your Seat: Argerich and Barenboim in Berlin
They are two world stars from Argentina and have known each other since childhood: Martha Argerich and Daniel Barenboim. This weekend, in three unique sold-out concerts, they perform Schumann's Piano Concerto together with the Berliner Philharmoniker. We are immensely happy about our continuous collaboration with Berliner Philharmoniker's Digital Concert Hall which enables us to invite our members to the live streaming of the January 7 performance in Berliner Philharmonie.
The programme includes Robert Schumann, one of Martha Argerich's favourite composers: in his piano concerto, she can display her unrivalled expressiveness. Daniel Barenboim also conducts Johannes Brahms's Second Symphony.
Free tickets for Piano Street's members
Thanks to a continuous collaboration with the Berliner Philharmoniker's Digital Concert Hall, all Piano Street members enjoy free access for 48 hours to the Digital Concert Hall. Log in to your Piano Street account to get your free voucher code which gives you instant access to the Digital Concert Hall. Take the opportunity to hear a live concert with Argerich, Barenboim and Berliner Philharmoniker on Saturday 7 and 8 January 2023 and to access all concerts in the archive for 48 hours!
UPDATE 16 JANUARY: The concert is now available on demand in the DCH archive and can be watched using the voucher.
No Piano Street account? Sign up here to get your live stream ticket!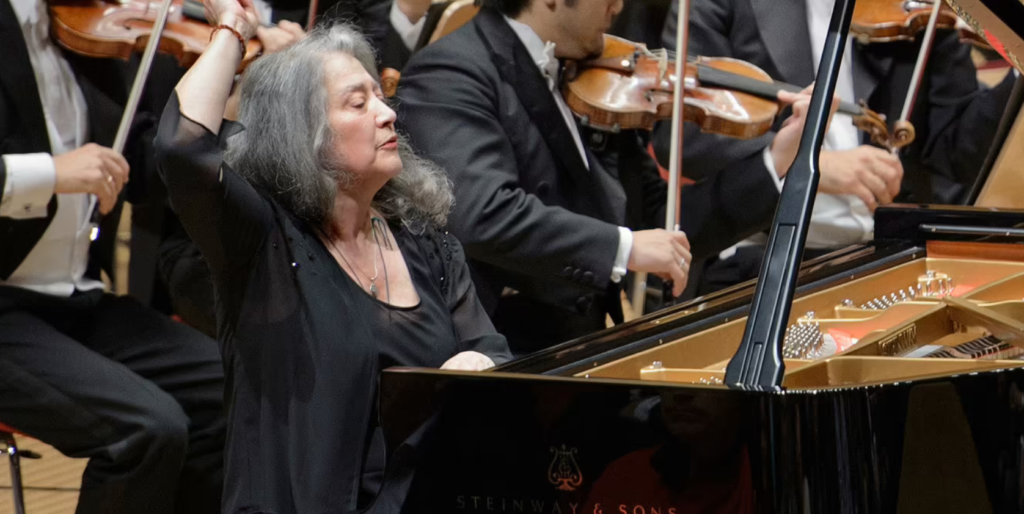 LIVESTREAM: Saturday 07 January, 17.45 (UTC/GMT)
REPEAT: Sunday 08 January 10.45 (UTC/GMT)

Berliner Philharmoniker – Daniel Barenboim – Martha Argerich
Program:
Robert Schumann: Concerto for Piano and Orchestra in A minor, op. 54
Martha Argerich, piano
Johannes Brahms: Symphony No. 2 in D major, op. 73
Originally a sketch for a Phantasie for piano and orchestra, Schumann revised it into the first movement of a full-scale concerto in 1845. What he produced was not, in fact, a pianistically virtuosic piece, but a unique work by the extent to which the piano and the orchestra interacts, as opposed to the more standard turn-taking of the forces in standard virtuoso concertos of the day. The result is a "symphonic" concerto in the way in which the soloist and the orchestra unify through their intentions. Despite its lack of superficial virtuosic effects, Schumann's only full-grown Piano Concerto quickly became one of his most popular pieces.
Brahms' second symphony is often called his "Pastoral Symphony". During the summer of 1877, Brahms stayed as a guest in two rooms in the pittoresque village Pörtschach am Wörthersee in southern Austria. "It is wonderful here," he wrote his publisher Simrock just after arrival. Soon he sent an excerpt of his new second symphony to his good friend, the skilled amateur musician and physician Theodore Billroth, who replied: "The rippling streams, blue sky, sunshine and cool green shade can all be heard here. It must be beautiful in Pörtschach."
The Schumann Concerto – digital piano score: