TAKE YOUR SEAT! Hear Mitsuko Uchida Play Mozart Live with the Berliner Philharmoniker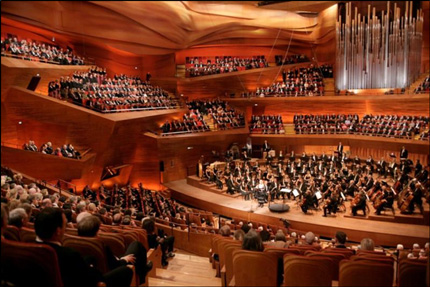 Thanks to a collaboration with the Berliner Philharmoniker Digital Concert Hall, all Piano Street members can enjoy free access for 48 hours to the Digital Concert Hall. Log in to your Piano Street account to get your free voucher code which gives you instant access to the Digital Concert Hall. (No PS account? Sign up for free here!) Take the opportunity to hear a live concert with pianist Mitsuko Uchida and to access all concerts in the archive!
LIVE from Berlin on Saturday
15 Feb 2014, 8 p.m. (Berlin time)
Mitsuko Uchida, Berliner Philharmoniker and Simon Rattle in Wolfgang Amadeus Mozart's Piano Concerto in B flat major K. 456 (Piano score from IMSLP)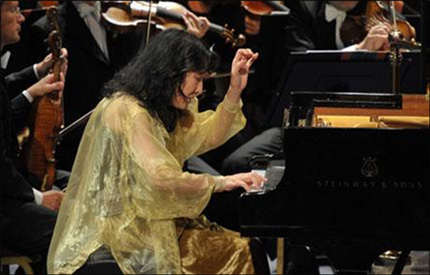 Up-coming live piano concertos at the DCH

Saturday, 15 Mar 2014 8 p.m. (Berlin time)
Emanuel Ax, piano
Wolfgang Amadeus Mozart:
Piano Concerto in E flat major K. 271 ¨Jeunehomme¨

Friday, 25 Apr 2014 10:30 p.m. (Berlin time)
Ohad Ben-Ari, piano
Hans Werner Henze:
"Requiem": Nine Sacred Concertos for piano solo, trumpet concertante and large chamber orchestra

Wednesday, 18 Jun 2014 8 p.m. (Berlin time)
Daniel Barenboim, piano
Johannes Brahms:
Piano Concerto No. 1 in D minor
A vast number of piano concertos with top performers are available in the DCH archive. Artists include: Pires, Vogt, Barenboim, Volodos, Uchida, Perahia, Schiff, Aimard, Grimaud, Matsuev, Bronfman, Andsnes, Ax, Pollini, Hamelin, Berezovsky, Pressler, Buchbinder and Katia and Marielle Labèque.
Browse the piano concertos archive
---
About the Digital Concert Hall
In 2008, the Berlin Philharmonic, in partnership with Deutsche Bank and Sony, started posting its live performances on the Internet via the Digital Concert Hall, or DCH. Seven high-definition cameras capture all the musical action within the Philharmonie. Highlighting the intriguing interpretations of principal conductor Sir Simon Rattle, the fantastic audio quality of the multimedia files is at once accurate and thrilling. The operators inside the video studio make the recordings available a few days after each performance.
More than 1.5 million people have taken advantage of the streamed offerings over the last five years. With access to a combination of almost 400 recordings that include concerts, educational programming and interviews with conductors, soloists and orchestra members, site visitors can enjoy the entire gamut of Berlin Philharmonic musical experiences.
The site also provides extensive program notes for each piece; conductors and soloists often speak about both the program in question and about their careers. Many world-renowned pianists count themselves among the interviewed, and keyboardists the world over can virtually pick their brains regarding a wide range of material. The website catalogs everything, and web surfers can use a powerful search tool to find artists, pieces and specific performances they want. After discovering each hidden gem, users can bookmark their favorites. There is even a section dedicated to documentaries and other short films.
The Mobile Digital Concert Hall
The Digital Concert Hall has never been easily portable without a laptop; however, now that Apple has released the Digital Concert Hall free app, anyone with an iPhone, iPad or iPod Touch can get his or her Berlin Philharmonic music anywhere. It's an exciting way for users all over the globe to stay in touch with the world's premier performing ensemble and the many soloists, including pianists, who have graced its iconic stage.