Classical Piano Sheet Music to Download and Print

or to View in Your
Mobile Device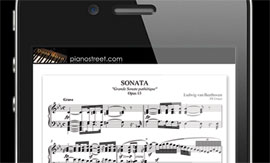 ---
Sign-up now
For instant access to the printable sheet music of
Mazurkas by Chopin
and thousands of other classical piano pieces,
sign up
for a Piano Street Gold Membership!
Frédéric Chopin: Mazurkas
The Mazurka is a Polish dance in triple time. Its name is derived from the word mazur, which refers to an inhabitant of the Mazovia region in Poland. A typical, basic mazurka rhythm consists of two quavers followed by two crotchets, with an accent on the second or third beat.
Chopin's Mazurkas (which also include elements of two other Polish national dances, the slow Kujawiak and the fast Oberek) were written during the whole span of his career, and illustrate better than any other of his works his aim of expressing the Polish spirit. Chopin here pursues some of his most audacious and novel ideas in terms of harmony and melody.
Liszt remarked that "to do justice to the mazurkas, one would have to harness a new pianist of the first rank to each one of them".
Sheet Music Downloads:
Posts in the piano forum about Mazurkas by Chopin:

Chopin mazurkas

April 14, 2009, 07:53:09 PM by pk


What do you think of chopins mazurkas ?
I think chopin wrote 58 mazurkas too many


I have never heard a mazurka that sounded interresting, and have never bothered learning one.



Easiest Chopin mazurkas?

January 17, 2009, 03:08:56 PM by csharp_minor



Hi I'm new to these pieces I haven't heard them properly yet, need to buy a cd of them! Anyway what are the easiest ones to play? Roughly what level do you need to be at to play them? I wouldn't mind having a look at some to see if I could give any ago, even though I'm a beginner of 12 months and this may be out of my depth

.

Thanks


Chopin Mazurkas

January 29, 2007, 08:42:06 PM by rhia


Hi, I'm looking to play for a sad and beautiful Chopin Mazurka.
Anyone recommend of any?

Thanks,

Rhia