Classical Piano Sheet Music to Download and Print

or to View in Your
Mobile Device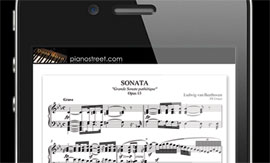 ---
Sign-up now
For instant access to the printable sheet music of
Polonaises by Chopin
and thousands of other classical piano pieces,
sign up
for a Piano Street Gold Membership!
Frédéric Chopin: Polonaises
The polonaise is a couple dance in moderate 3/4 time, originating from Poland (its name is the French word for Polish). Over the years it simply became a term for an instrumental work with certain characteristics, relatively independent of its dance and national origins, but Chopin's mature works in the genre were to become true symbols of Polish nationalism, especially the most famous one, the "Heroic" Polonaise in A-flat, Op. 53.
When Poland was invaded in 1939, this work (recorded by Paderewski, the great Polish pianist and statesman) was played over and over again on Warsaw radio, until the Nazis were able to shut the station down.
Sheet Music Downloads:
Posts in the piano forum about Polonaises by Chopin:

Seeking recordings: Frankl plays Chopin ballades and polonaises

December 14, 2010, 06:02:06 PM by josh h


Hi,

Can anyone suggest a place where I can purchase or acquire CD or mp3 (or other PC-based formats) recordings of Peter Frankl playing Chopin's ballades and polonaises?

I purchased these recordings about 20 years ago on cassette tapes. Needless to say, I don't have a tape deck anymore (and even if I did, I listened to the tapes so often that they're damaged by now).

I rarely hear anyone talk about Frankl's performances of these works, but to me they are the best I've ever heard. The piano he's playing has a beautiful warm tone with no tinniness. His playing is brisk and contains the needed technique to execute these pieces, but is not rushed. Perhaps most importantly, he plays the pieces "straight" - without over-exaggerated changes in tempo or dynamics - and lets the music in these masterpieces speak for itself.

I've searched iTunes and Amazon. I've looked in record stores. I've done google searches. All with no results.

Any guidance or suggestions welcome. Thoughts on these recordings are also welcome.

Thanks,
Josh



Chopin complete Polonaises?

March 14, 2010, 04:38:45 PM by m2r


They are full of challenging reaches but have absolutely wonderful melodies.



Can you grade difficulties of these pieces from easiest to hardest?

November 10, 2006, 07:39:31 AM by redrum232


Chopin: Ballade no 1, Ballade no 2, Ballade no 3, Scherzo no 3, Scherzo no 2, Berceuse, Polonaise Heroique , Beethoven: Waldstein movement 1, movement 3; Appasionata movement 1, movement 3.




I'm searching for next repertoire. I' m quite sure that the Berceuse is significantly easier than the rest, but i don't know the distance of difficulties between that one and the others( for example: ballade 2 or scherzo) if i learn both of them at the same time...



Chopin Polonaises

February 15, 2005, 10:38:35 PM by rshillen


Can anyone give me some guidance regarding the technical and musical difficulties of the Chopin Polonaises?. Although I've studied various pieces by Chopin in the past I have never studied the Polonaises. I was going to start with the so called easiest in C sharp minor Op 26 but then have no idea which I should tackle next. I have small hands and would love to tackle the Grande Polonaise in E flat Opus 22 but am unsure where that fits in in the hierachy of technical difficulty. Any guidance would be appreciated?