Classical Piano Sheet Music to Download and Print

or to View in Your
Mobile Device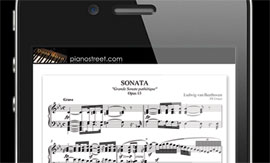 ---
Sign-up now
For instant access to the printable sheet music of
Polonaises by Chopin
and thousands of other classical piano pieces,
sign up
for a Piano Street Gold Membership!
Frédéric Chopin: Polonaises
The polonaise is a couple dance in moderate 3/4 time, originating from Poland (its name is the French word for Polish). Over the years it simply became a term for an instrumental work with certain characteristics, relatively independent of its dance and national origins, but Chopin's mature works in the genre were to become true symbols of Polish nationalism, especially the most famous one, the "Heroic" Polonaise in A-flat, Op. 53.
When Poland was invaded in 1939, this work (recorded by Paderewski, the great Polish pianist and statesman) was played over and over again on Warsaw radio, until the Nazis were able to shut the station down.
Sheet Music Downloads: