Classical Piano Sheet Music to Download and Print

or to View in Your
Mobile Device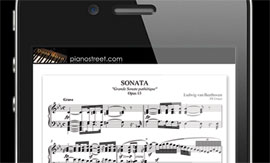 ---
Sign-up now
For instant access to the printable sheet music of
Twelve Etudes (Book II) by Debussy
and thousands of other classical piano pieces,
sign up
for a Piano Street Gold Membership!
Claude Debussy: Twelve Etudes (Book II)
The etudes were Debussy's last important works for piano, written in the midst of World War I, when the composer was already seriously ill with cancer.
He was very proud of this work, and was bold enough to dedicate it to that other composer of extremely inspired piano etudes – Chopin. Indeed, as in the case of the Chopin studies, Debussy's etudes are a sort of distillation of the composer's musical and technical legacy.
They are divided into two books: the first is devoted to exploring the problems and possibilities inherent in different intervals (thirds, sixths, etc.), while Book II engages more in various elements of musical syntax and style, such as ornaments, repeated notes, arpeggios etc. The second book includes some of the most technically challenging of Debussy's piano pieces.
Sheet Music Downloads: