Carl Czerny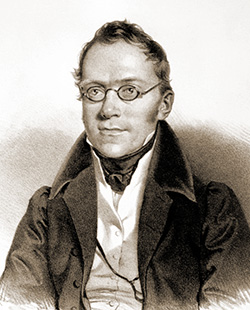 Carl Czerny (1791-1857) was born in Vienna into a Czech family, and had his first piano lessons from his father. Carl developed quickly, and by ten he was "able to play cleanly and fluently nearly everything by Mozart and Clementi" (Erinnerungen aus meinem Leben, Czerny´s autobiographical sketch from 1842). He was then introduced to Beethoven, who accepted him as his pupil. Czerny would prove very useful to his teacher over the years as an outstanding interpreter of Beethoven´s piano works. He also wrote valuable commentaries on the performance of Beethoven´s piano music.
Czerny did not undertake the life of a travelling virtuoso but chose instead to dedicate himself to teaching and composing, his most famous pupil being Franz Liszt. When Clementi was in Vienna in 1810, Czerny spent a great deal of time with him, becoming familiar with Clementi´s piano method and incorporating it into his own teaching. Czerny often taught ten hours a day, but nevertheless found time to compose more than a thousand works. He is mainly known for his many sets of studies and exercises for piano, especially the School of Velocity, Op. 299. Czerny´s complete schools and treatises combine sound pedagogy with remarkable revelations about contemporary performing practices, and present a detailed picture of the musical culture of the day. His most substantial work in this vein, the Pianoforte-Schule Op. 500, covers an extraordinary range of topics, including improvisation, transposition, score reading, concert decorum and piano maintenance.
In the 1840s Czerny´s health began to fail. His enormous productivity had earned him a respectable fortune which, on his death, he left to various charities, including (as a tribute to his teacher Beethoven?) an institute for the deaf. The predominant view of Czerny as a zealous pedagogue, producing an endless stream of dry and unimaginative works, might have its origin in Robert Schumanns many bad reviews of his music. However, not everyone at the time shared Schumanns unfavourable opinion. Czerny was held in high regard by many, including Liszt and Chopin, and as the teacher and mentor of many important musicians he remains a central figure in the transmission of Beethoven´s legacy.
Czerny Piano Sheet Music
for digital devices or to download & print
Total pieces by Czerny: 88
ID:10
Forum posts about Carl Czerny