Classical Piano Sheet Music to Download and Print

or to View in Your
Mobile Device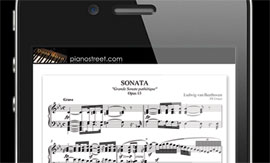 ---
Sign-up now
For instant access to the printable sheet music of
Suite Bergamasque by Debussy
and thousands of other classical piano pieces,
sign up
for a Piano Street Gold Membership!
Claude Debussy: Suite Bergamasque
Originally composed in 1890, the Suite Bergamasque was not published until 1905. It is unclear how much of it was revised during the fifteen-year interval.
The work could be regarded as Debussy's tribute to French Baroque harpsichordists like Rameau and Couperin. Another source of inspiration was Paul Verlaine's poem "Clair de lune", which also references a so called "bergamask", a rustic Italian dance.
Clair de lune is also the title of third movement, which has become one of the most well-known pieces of the entire piano literature.
Debussy changed the titles of this and the concluding piece only shortly before publication – they were originally named Promenade sentimentale and Pavane.
Sheet Music Downloads:
Posts in the piano forum about Suite Bergamasque by Debussy:

best recording of Suite Bergamasque

November 09, 2009, 09:42:43 AM by ptyrrell


Hi Guys,

I have heard a variety of recordings now of Suite Bergamasque by Debussy, from Richter to Nelson Friere. Does anybody have a top 3 of the best recordings/interpretations of this peice?

Thanks for your help



Debussy Suite Bergamasque prelude

August 13, 2008, 10:43:14 PM by healdie


Hi guys i have the sheet music for this and as ussual there are no finguring suggestions

i would be very grateful if someone could suggest some fingering for the pattern in the 2nd bar as i can't quite work out a good practical one to use

thanks a bundle

Healdie



Debussy Suites -- which one?

March 22, 2008, 04:06:28 PM by just_me


My teacher recommended that I get either the children's corner suite or the suite bergamasque. I like them both equally, so I am wondering which one will teach me more? Your replies are appreciated. Thanks!



Claude Debussy - Suite Bergamesque. What level?

October 06, 2005, 10:01:47 AM by ccr


Hello,

I'm in the process of selecting and ordering (by difficulty) the pieces I would like to play. Suite Bergamesque is one of them, at least the prelude and Clair de Lune but don't know what level they are. Anybody knows the level for this pieces? Not the average/maximum for the entire suite, but for each of the movements.

I searched the forums but found nothing about it.

Thanks

Carlos

PS: Aren't they beautiful