Classical Piano Sheet Music to Download and Print

or to View in Your
Mobile Device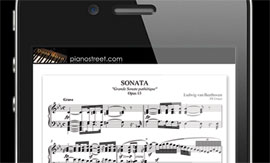 ---
Sign-up now
For instant access to the printable sheet music of
Suite Bergamasque by Debussy
and thousands of other classical piano pieces,
sign up
for a Piano Street Gold Membership!
Claude Debussy: Suite Bergamasque
Originally composed in 1890, the Suite Bergamasque was not published until 1905. It is unclear how much of it was revised during the fifteen-year interval.
The work could be regarded as Debussy's tribute to French Baroque harpsichordists like Rameau and Couperin. Another source of inspiration was Paul Verlaine's poem "Clair de lune", which also references a so called "bergamask", a rustic Italian dance.
Clair de lune is also the title of third movement, which has become one of the most well-known pieces of the entire piano literature.
Debussy changed the titles of this and the concluding piece only shortly before publication – they were originally named Promenade sentimentale and Pavane.
Sheet Music Downloads: