Classical Piano Sheet Music to Download and Print

or to View in Your
Mobile Device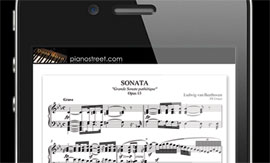 ---
Sign-up now
For instant access to the printable sheet music of
Goyescas by Granados
and thousands of other classical piano pieces,
sign up
for a Piano Street Gold Membership!
Enrique Granados: Goyescas
Together with Albéniz's Iberia, Granados' Goyescas crowned the Spanish high-Romantic/Impressionist movement, much as Debussy's Préludes and Ravel's Miroirs and Gaspard de la nuit did the French. It's a suite in seven movements, each of which is a musical depiction of Spain as seen through the paintings of Francisco Goya, whose works often commentated on everyday scenes, involving the low status men (majos) and women (majas) who frequented Madrid and its bohemian quarter in the late eighteenth century.
The piano writing of Goyescas is highly ornamented, filled with brilliant colors, lush harmonies, violent mood swings and post-Romantic fervour. Granados was justifiably proud of the suite: 'Finally I have had the good fortune to write something important.' The two movements of Book II form a kind of recapitulation of themes presented in the earlier pieces. According to Granados 'All of the themes of Goyescas are united in El amor y la muerte... intense pain, nostalgic love and the final tragedy death. The middle section is based on the themes of Quejas o la maja y el ruiseñor and Los requiebros, converting the drama into sweet gentle sorrow...the final chords represent the renunciation of happiness.'
Sheet Music Downloads: