Classical Piano Sheet Music to Download and Print

or to View in Your
Mobile Device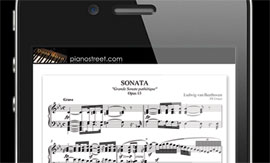 ---
Sign-up now
For instant access to the printable sheet music of
Etude in 12 Exercises by Liszt
and thousands of other classical piano pieces,
sign up
for a Piano Street Gold Membership!
Franz Liszt: Etude in 12 Exercises
This youthful set of studies is the origin of the later and much more famous Transcendental Etudes, published 25 years later. Written when Liszt was only 15, they are quite a bit easier to tackle than the later versions, and an interesting sample of Liszt style before he had accomplished his great revolution of piano technique.
Sheet Music Downloads:
Posts in the piano forum about Etude in 12 Exercises by Liszt:

Difficulty of Various Etudes

August 27, 2006, 10:01:40 AM by cloches_de_geneve


I would like to pick a couple of those and would appreciate any comments on these pieces by members that played them. Thanks.



Etudes

February 16, 2006, 01:11:11 AM by chopinfan_22


I have a question about Liszt's Etudes. Now I know some of them are completely off the wall... but to any of you that have played/taught them, how helpful are they? I was thinking of trying his first Trascandental Etude (in C). It's only two pages... the last page being arpeggios. I just wanted to gather an opinion. Thanks.



Chopin or Liszt

February 11, 2006, 02:56:51 PM by lisztener


Which one of them made the most difficult etudes? Earlier when i hadn't heard so much by Choipn I assumed it was Liszt. Now I'm not so sure...


Take care /lisztener



which order is best to learn chopin and liszt etudes?

August 07, 2005, 07:27:22 PM by stevie


it is a longterm dream of mine to tackle these complete sets, the chopin op10 + op25, and the liszt trancendental etudes.

which order is the most efficient in learning them all?

and generall..any other advice for undertaking a project like this?