Classical Piano Sheet Music to Download and Print

or to View in Your
Mobile Device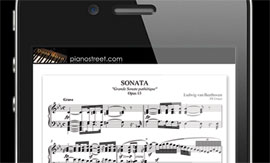 ---
Sign-up now
For instant access to the printable sheet music of
Visions Fugitives by Prokofiev
and thousands of other classical piano pieces,
sign up
for a Piano Street Gold Membership!
Sergey Prokofiev: Visions Fugitives
Visions Fugitives (fleeting visions) by Sergey Prokofiev is a set of pieces based on a poem written by Russian poet Konstantin Balmont. They were composed between 1915 and 1917 and premiered by Prokofiev on April 15, 1918 in Petrograd, Soviet Union.
The pieces, though far from atonal, contain dissonant harmonies similar in nature of music composed by Prokofiev's contemporaries (Schoenberg and Scriabin), although still retaining highly original concepts in both tonality and rhythm.
Sheet Music Downloads: