Classical Piano Sheet Music to Download and Print

or to View in Your
Mobile Device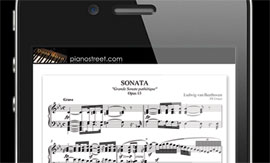 ---
Sign-up now
For instant access to the printable sheet music of
Etudes by Scriabin
and thousands of other classical piano pieces,
sign up
for a Piano Street Gold Membership!
Alexander Scriabin: Etudes
Scriabinís Etudes span the whole of his career, and are a good illustration of his transformation from Chopin-worshipping romantic to one of the early 20th centuryís most forward-looking composers.
The earliest work here dates from 1887, when Scriabin was 15. The Twelve Etudes Op. 8 are more mature, but remain clearly in the tradition of Chopin and Liszt.
With the Op. 42 Etudes, from the extraordinary productive year of 1903, we enter a completely different world; this is the time when Scriabin embarks on his most radical advancements.
The later sets continue the evolution of his highly individual style, moving ever closer to complete atonality, and reflecting the composerís complex mystical world-view.
Sheet Music Downloads:
Posts in the piano forum about Etudes by Scriabin:

Scriabin Etudes

May 14, 2011, 09:53:01 PM by pianistcellist


If one needs an "etude of virtuosity," which Scriabin etudes would fit the bill? So many of them are so short can they stand up to things like the trancendentals?



Scriabin Etudes Op. 8 Editions?

May 02, 2009, 01:23:17 PM by cchamp27


I'm having trouble finding a good edition from browsing online. What is recommended?

Thanks



Scriabin Etudes

May 08, 2007, 02:46:55 PM by pinoypianist


What are good Scriabin etudes for someone who is playing these etudes for the first time?

preferably Gr. 6 -7 Thanks



Scriabin sonatas/etudes

September 15, 2006, 07:23:39 AM by hodi


i would like to know how would u rank the difficulty of scriabin sonatas (hardest, easiest)
this topic was discussed a long time ago ( i did a search ) but i would like to hear opinions of more people .
same about the etudes