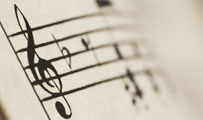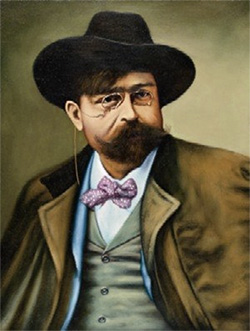 Albéniz - Piano Music
Isaac Albéniz
(1860-1909) made his debut as a pianist at the age of five, dressed by his parents as a French musketeer. When he got a little older, he repeatedly ran away from home to perform in various Spanish cities. At 15 he travelled to the New World, according to legend as a stowaway on a freight ship, carrying only his musketeer's dress. He is then supposed to have led a vagabond life throughout the Americas, giving concerts in Brazil, Cuba and the USA. Back in Europe, he enrolled in the Leipzig Conservatory, but was disappointed with the dry formality of the German educational system. In 1878 he studied with
Liszt
in Weimar and Budapest. His artistic career did not really blossom until he had returned to Spain and met Felipe Pedrell, "the father of Spanish music". Albeniz was inspired by Pedrell to write music rooted in the Spanish culture. From 1885 onwards, when he had settled in Madrid, he became a renowned piano teacher, and travelled widely as a virtuoso performer, his playing being compared to that of
Anton Rubinstein
and Liszt. He subsequently lived in London and later in Paris, where he became friends with
Debussy
, Fauré, Dukas and d´Indy.
Albéniz has been described as extrovert, kind, humorous, and generous, and certainly wrote music to match this joyful and exuberant personality. He composed an enormous oeuvre, mostly works for piano solo but also concertos, symphonic works and music dramas
(The Magic Opal, Pepita Jimenez, Merlin)
. His efforts to create a Spanish national opera were met with constant opposition from the critics.
After 1900, Albéniz´s health deteriorated and his prodigious musical production diminished. Yet, these years produced his greatest masterpiece, his suite
Iberia
for piano - twelve pieces of such complexity and difficulty that they were first pronounced unplayable. This is probably the most important Spanish piano work of all times. Albeniz left several other important additions to the piano repertoire, such as the suites
España
,
Cantos de España
and
Recuerdos de Viaje
.
Piano Sheet music by Isaac Albéniz to Download
| | | |
| --- | --- | --- |
| Download & Print | View in Mobile Device | For instant access to the printable sheet music of pices by Albéniz and thousands of other classical piano pieces, sign up for a Piano Street Gold Membership! |
Total pieces by Albéniz: 38
Posts in the piano forum about Albéniz:

Re: Albeniz and Granados

November 07, 2005, 08:20:52 PM by ravel


both are amazing. i voted albeniz just based on iberia, a couple of other pieces, and his rhapsodie espagnol, however granados is just as good it seems. not only his goyescas, but other pieces too., i got this cd of De Larrocha performing some of his lesser known works, it was amazing music.



Re: Albeniz...

April 25, 2005, 05:43:30 PM by pianowelsh


Love spanish piano composers. Agreed they make avery nice alternative to Chopin - equally they pair up tnicely with Chopin. I believe it was Granados who was called the spanish Chopin. I slightly prefer Granados to Albeniz Iberia is 'out of this world' in every respect. If your looking for a way into albeniz he has a nice Tango in Dmajor which is quite famous and quite straightforward.


Re: Albeniz...

April 23, 2005, 04:54:28 PM by shasta


Excellent choice, Tadhg! Here's a recent link on spanish piano music for you to browse:

http://www.pianoforum.net/smf/index.php/topic,7718.0.html

I personally would recommend Isaac Albeniz's Recuerdos de Viaje (Op.71, 7 pieces), his Espana Op.165 (6 pieces), or his Suite Espanola.

If Albeniz's stuff looks a little too tricky:

-Try Granados's Danzas Espanolas to really get a wonderful taste of Spain - - - particularly dance No.5 (Andaluza) and No.7 (Valenciano o Calesera). <--- these 2 are amongst the more famous spanish piano pieces, so I'm sure you've heard them before.

-Try Lecuona's Andalusia Suite (he's Cuban). I'm sure you've heard the Malaguena from this set.

The "other" Albeniz (Mateo Albeniz) is very good too, and very different from the above guys - - - Mateo sounds much more like a spanish Mozart, if you'd like something more "classical" in sound and structure.

Enjoy!