Bach: Sinfonia No. 1 in C Major
Piano Sheet Music to Download and Print or to View in Mobile Devices
Members who like this piece have also downloaded:
Posts in the piano forum about this piece by :

Re: Bach: (Sinfonia1 - English SuiteII) fingering

July 19, 2005, 08:00:23 PM by bernhard


Let us have a look at how to go about fingering on the Sinfonia.

First read through this thread where the basics are explained:


http://pianoforum.net/smf/index.php/topic,2458.msg21365.html#msg21365
(Mental practice – tips for fingering)


Now keep in mind that the fingering I am providing is a suggestion , so feel free to modify it to accommodate your physicality.

Consider the first two bars:




The top score is a possible fingering. The score below is the fingering I use. Is the top score wrong? Not necessarily. So why don't I use it? If you look at the three places where I have circled, and if you try that fingering at the piano, you will see (and feel) that in those circled notes there is a strong contraction of the hand. I find this sort of contraction not only uncomfortable, but unnecessary.

If you now try my fingering you should feel immediately how much more comfortable it is since it involves no contraction of the hand. However it does involve a lot of passing over of the fingers over the thumb – which for me are not a problem – but maybe for someone else it is – so s/he would rather use the first fingering instead. So as you can see, there is no ideal "right for all" fingering, and ultimately the final fingering you arrive at will always be a compromise. However do not conclude for that that any fingering will do. There may be 5 or 6 fingerings that will work, but an infinite number that will simply be wrong.

In this particular piece one of the priorities is the holding of notes that need to be held and the release of notes that need to be released. So some awkward fingerings must be put up with in order to render the piece as written.

Perhaps the worst offender in this piece is the section below encircled (bar 9). It is a very awkward fingering and you will have to practise it consistently and repeatedly until it becomes second nature. (I certainly would be interested if anyone can come up with a less awkward fingering for it).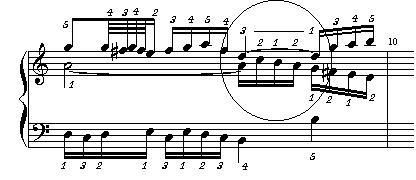 One important point is that fingering implies movement, so much of the awkwardness of a particular fingering may be due not to the fingering proper but to the movement associated with it. Most of the times, when faced wit a truly awkward fingering, a simple change of movement can render the fingering easy and effortless, so do not get stuck into weird limitations ("never play black notes with the thumb"; "always keep the forearms perpendicular to the piano"). Instead investigate a number of different movements until you hit the right co-ordinations. A very good example is to be found in bar 14, where what appears at first to be a really awkward fingering turns up to be totally effortless if you get the movements right: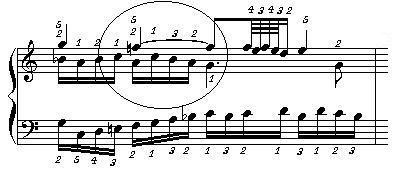 The full fingering for this sinfonia is in the post below (and since I am at it, I also realised the ornaments).



Now your homework is to do the same for the English suite.




Best wishes,
Bernhard.